26 Nov 2013 3:09 PM

Popular

Comments

Profile
Tags:
workflow
,
Website Management
,
Comrz
,
social commerce
,
Affino
,
campaigns
,
application bar
,
Affino 7
,
Campaign Management
,
Empowerment
,
Social CRM
,
Affino Design Centre
,
Affino Social Commerce Solution
,
Maximising Revenue
,
Speed of Response
,
Affino Structure
,
End User Empowerment
,
Website Control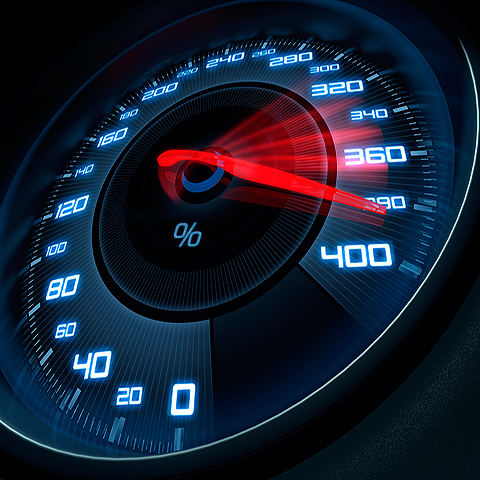 How quickly you can react to market forces is usually the dividing line between success and failure. Every opportunity is fleeting, and rarely are you the only one competing for said opportunity. In marketing, first mover advantage is often the key to seizing the deal. How much you can do in-house at but a moment's notice is therefore crucial for your success rate.
If you have read 'Maxmising Revenue #1' - you will know that Gill & Macmillan attribute the ability to create new targeted sites on new domains at will, as a significant cornerstone of their recent success. For BIBA Medical, the ability to take charge and make swift changes has been key to their online growth, as Web Manager David Reekie notes: "The best thing about running BIBA Medical on Affino is that I have total hands-on control over every aspect of our business on the Internet".
When you read the two recently published Case Studies (BIBA Medical and Irish Books Direct), you will see the importance the Web Managers place on being able to do everything themselves. In a forthcoming case study from Human Kinetics, they talk about the significant challenges their web development team faced when running their sites prior to Affino. Every single change, new promotion or campaign had to go through the development team - the support burden was getting to a point of unsustainability. Post Affino transition, Human Kinetics now have category editors empowered through workflows, and marketing personnel who can trigger their own campaigns without needing to bother development. Development can now focus on innovating and delivering a better service with Affino.
'Empowerment' has always been one of Affino's core values - the ability of small teams of individuals to take control over vast Affino portals. Affino's Empowerment is best explained by the 10 following benefits:
Use Affino's 'Design Centre' to build, change and evolve page / site look-and-feel at will
Deploy radical changes to site structure using 'Structure Copy' and 'Restructure'
Use Application Bar and Live Edit to edit Structure, Content and Design on the screen and instantaneously
Use Topic Lists and Granular Keyword assignment for smart Site Taxonomies and Organic SEO
Use Affino's Social CRM to get indepth, instant
...

1 comment
|
permalink
|
email this
|

|





07 Nov 2013 1:30 PM

Popular

Comments

Profile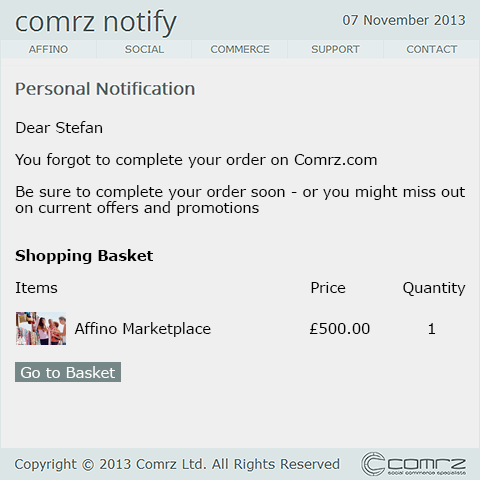 This post was prompted by an email we received last week stating - "How much do you lose to cart abandonment?" - from a certain something company offering a very specific solution for spotting, analysing and dealing with abandoned shopping carts. This highlights two very different approaches to eCommerce sites in general - most of the sites out there are what we would determine fragmented 'bolt-ons' - i.e. a core eCommerce / checkout system with lots of 3rd party integrations - difficult to set-up, manage or evolve. The Affino Social Commerce Solution is a much more holistic approach, as all the essential tools and utilities are included and built into the very core of the system.
Most people don't realise quite how much is available on-tap in Affino, so here follow some of the less obvious included elements - which very much sit within the areas of Sales and Marketing Automation and Social Utilities, all of these of course help with maximising revenues, improving customer retention and generating repeat sales:
Abandoned Cart Notifications
This is simply one of the many triggers within Affino's Messaging solution - others include: Purchase, Login, Birthday and Conversion Event - all despatched fully automatically to incentivise customers
Conversion Events
Part of Affino's Customer Ladder solution, there are currently 42 trigger types with subsets, including: Cancelled Purchase, Friend Bought from Invite, Item added to Basket, Item added to Wishlist and of course Purchase - these can auto-despatch a variety of messages, or trigger coupons, discounts, store credits or other rewards
Lead Generation
You can assign any Conversion Event to a Lead Generation Profile, which logs resultant leads and sends notifications to the appointed Leads Manager/s
Product Subscriptions
Another essential Conversion Event utility, where any conversion even can trigger a content subscription - such that customers get notification whenever a new product is added to a specified category
Recommendations
Based on topics assignment and registered user preferences / likes, Affino recommends content, media, products, contacts and events - so customers get more of what they like - and so do you
Active Shopping Basket Management
Track and manage active Shopping Baskets - help customers through

...

3 comments
|
permalink
|
email this
|

|





07 Nov 2013 1:13 PM

Popular

Comments

Profile
Tags:
internet retail
,
online retail
,
Comrz
,
ecommerce
,
social commerce
,
Affino
,
PayPal
,
Internet Shopping
,
Affino 7
,
Affino Social Commerce Solution
,
Maximising Revenue
,
Abandoned Shopping Basket
,
Abandoned Shopping Cart
,
Shopping Basket Abandonment
,
Econsultancy
,
Experian
,
TolunaQuick
,
Delivery Prices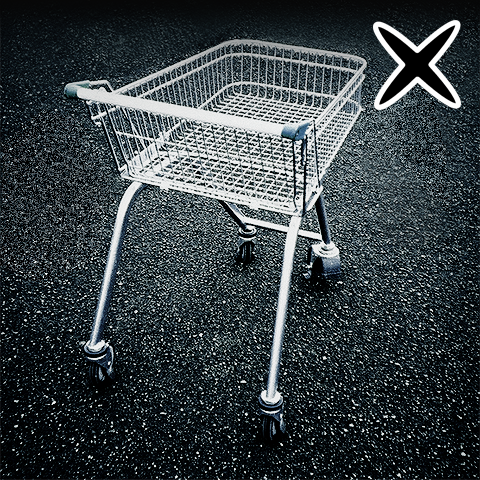 An interesting piece on Econsultancy indicates the key reasons for Shopping Basket abandonment, which Experian estimates is costing UK retailers £1bn+ each year. In an online survey conducted by Econsultancy and TolunaQuick, 44% of customers indicated that they had abandoned a purchase, and cited high delivery charges as the key reason.
Results and key questions as follows:
After adding items to your basket, what would make you abandon your purchase?
77% - High delivery charges
55% - Technical problems
49% - Prices too high
26% - Needing to register before buying
Once you are in the checkout process, what would deter you from completing the purchase?
71% - Hidden charges
58% - Concerns about payment security
44% - Technical problems or slow loading pages
37% - The process takes too long
33% - Lack of contact details
26% - Difficulty filling in forms
23% - Security features such as Verified by Visa or MasterCard SecureCode
How to combat the key causes of Shopping Basket Abandonment
No surprises! Be upfront and transparent about all charges
Always try to give at least 2 delivery options, e.g. cheaper normal post and more expensive express courier
Always try to give at least 2 payment options, e.g. PayPal and Credit Cards
Have an SSL Certificate on Checkout, Registration and Login - most shoppers will be reassured by HTTPS designation in browser
Belong to a relevant retail association - e.g.ABTA or Internet Shopping is Safe
Sign up to Trustpilot for unbiased customer reviews
Use a Single Page Checkout - everything simply laid out on a single screen means faster and easier checkout
Allow shoppers to buy with PayPal - without needing to register or logon
Ensure business address is clearly visible - shoppers are far happier doing business with someone they can place geographically
Have a named customer service representative with picture and contact details on site - shoppers are even happier doing business with someone they can put a face to
Our Social Commerce Solution Affino has been engineered to tackle all the key points indicated above - Contact our Business Development Director Marcus Svensson on maxrevenue@comrz.com for further insights on Affino's revenue generating abilities.

...

2 comments
|
permalink
|
email this
|

|





27 Oct 2013 6:35 PM

Popular

Comments

Profile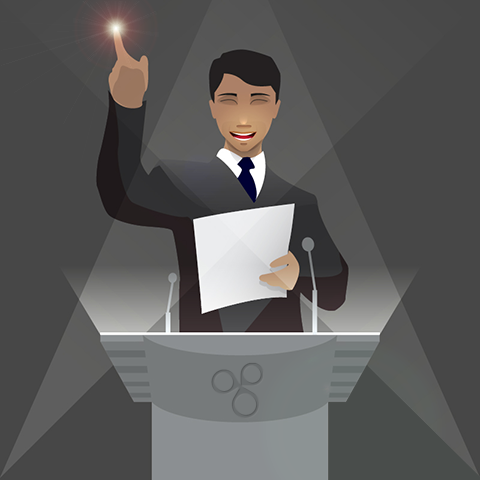 When Affino was first launched back in 2000, the central focus was always for the site owners to have full hands-on control over their online retail environments. Affino has always been developed with a view to being a holistic Social Commerce Platform - combining Online Retail with core CMS, Community and Deep Analysis.
Here are some of the essential facets of the Affino Social Commerce Solution which give Affino users more control:
Structure - Set up, copy and adapt multiple nested or fully independent content / product hierarchies. By utilising separate 'Zones' you can build a Multi-Channel and Multi-Brand Platform with ease
Design Centre - Affino's Design Centre is still as revolutionary today as it was when first introduced in 2002 - DIY Design Implementation via currently 86 Design Element Widgets, Design Styles, Menus, Frames, Design Objects and Skins, with advanced CSS customisation options available for those who have the skills
Personalisation - Using a combination of Affino's Granular Security and Assignable Topics with configurable Design Elements, you can set up highly targetted shop fronts with distinct customer journeys
Application Bar / Control Centre - Total control over everything you see onscreen - Affino has extensive settings profiles to give admin users enormous scope for making instant changes
Live Edit / Design Edit - Edit Content, Text Labels and Design Element Settings on the live Display Screen
Sell Almost Anything - Affino has extensive selling abilities, mixing up standard Product Catalogues with Digital Media, Events, Saleable Articles and Memberships - via Granular Security assignment you can pretty much put a price on any of your site activities
Social CRM + Customer Ladder - Have complete oversight over every activity your site users engage in, track them, incentivise and reward them
Instant Analysis - Affino has several bulit-in dedicated Social Commerce analytics tools as well as the wholly configurable Customer Ladder Conversion Events Analysis, and Configurable Analysis Dashboard with 19 dedicated Commerce widgets
Shopping Basket Management - Track and assist customers with their purchases
Core vs Integrated - Affino contains everything you need to run several high level, socially-enhanced stores in a single solution, but it also integrates with 3rd party solutions including
...

2 comments
|
permalink
|
email this
|

|





27 Oct 2013 12:44 AM

Popular

Comments

Profile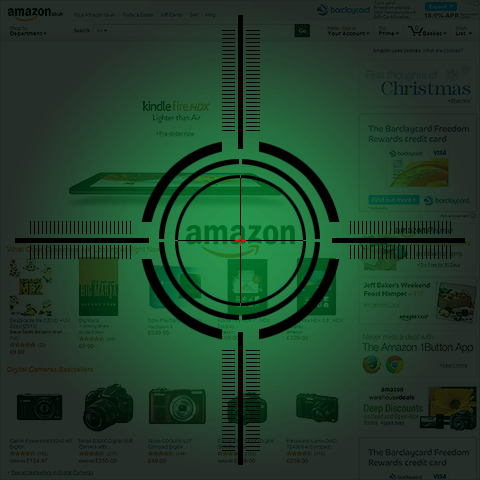 Since it's origin as an American online bookseller in 1994, Amazon has gone on to conquer the world. In most regions where it is active, it is the pre-eminent Internet Retailer, and now covers near enough every conceivable area of shopping, albeit not equally in every territory.
I've been an Amazon Prime Member for some time now, and alongside the Ocado Smart Pass, consider this an everyday essential service! I love the ease at looking something up, and fire and forget ordering with next-day noon delivery in almost all cases - even Sunday to Monday ordering on occasion.
There are many reasons how and why Amazon still maintains its lead:
Range - The Range of goods on Amazon is without equal
Price - In most cases (certainly not all though) Amazon has one of the lowest price points available - particularly for Books / Music / Video / Games
Stock - Amazon typically has a larger stock, so it's less likely to sell out of the item/s you want
Delivery - Plenty of delivery options including same and next day delivery, even with the option of secure lockers and 3rd party location pick-up points
Reliability - You have to be a little careful with Amazon Marketplace, but with a bit of reading between the lines you can usually spot the right moves, pretty much everything I order gets delivered the next day or two
Returns - Amazon uses the Yodel service to pick up packages from customers' doorsteps - I have used it several times and it works brilliantly
Reviews - Even though there is a slight proliferatin of semi-dodgy reviews, by-and-large you get a good indication of suitablity of product from customer reviews
Recommendations - Every area you browse on the site you get sent recommendations via email, not always wholly relevant, but very cool and frequently useful nonetheless
ListMania - Top 10 / 20 lists of customer favourites help you spot new products that are likely to appeal
Wishlists - The ability to file away preferred products for later purchase, great as a reminder for future releases
Amazon is usually my preferred retailer on the basis of a combination of range, cost and service, there are certain areas though that would benefit from improvements.
Areas Amazon could Improve Service:
Packaging - A lot of the packaging is not particularly re-useable for returning goods in - why do Amazon
...

2 comments
|
permalink
|
email this
|

|





26 Oct 2013 3:22 AM

Popular

Comments

Profile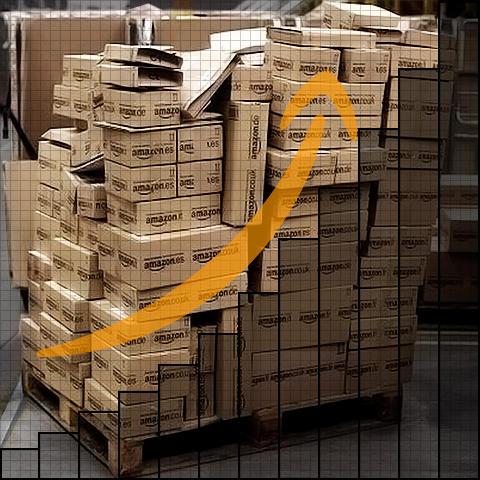 In Britain, the 'Internet Shopping Capital of the World' (q.v.), sales for September 2013 rose 13% from August, like-for-like comparison with September 2012 saw a rise of 20% between years (IMRG / Capgemini).
Clothing, especially lingerie and undergarments, saw strong increases on the success of sites like ASOS.com.
Mobile devices, including smartphones from Apple and Samsung saw a rise of 150% compared with 2012 - which directly impacts on shopping via mobile devices also.
Experts say that online sales have been boosted in particular by rapid delivery options, such as same-day delivery offered by companies like Amazon, ASOS, Dixons and Next. The September 2013 figures see the fastest increase per month since the e-Retail Sales Index was set up 13 years ago.
Over 10% of all UK Retail Sales are now online, with the ratio predicted to rise to 20%+ by 2020.
21% of UK families shop online for food and groceries compared to under 10% for the rest of the world. EU research shows that 82% of British Internet users regularly shop online, which is the highest figure within the 28 member states:
..1: UK 82%
=2: Denmark 79%
=2: Sweden 79%
..4: Germany 77%
..5: Luxembourg 73%
..6: Finland 72%
--------------------------
=26: Italy 29%
=26: Estonia 29%
..28: Romania 11%
UK leads the EU for online purchases of clothing and food, Sweden is top for travel, and Luxembourg is top for books (perhaps something to do with Amazon European HQ?)
UK Shoppers are more active than US as online food and grocery retail has not taken off to the same extent in America.
Like for like comparisons with September 2012 in the UK see clothing up 18%, lingerie 30%, accessories 20% and footwear 20%.
Current trends seem to indicate a likely strong Christmas season for online retailers - time to get all your ducks in a row then ...
2 comments
|
permalink
|
email this
|

|





19 Apr 2013 12:43 AM

Popular

Comments

Profile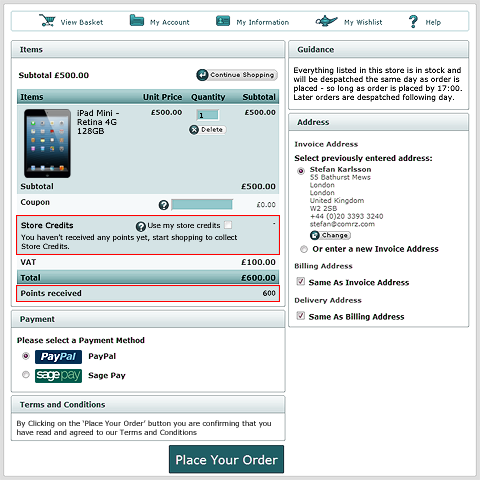 The most significant of the eCommerce introductions in the Affino 7.1 release is our new Store Credits system. This of course bolsters the existing Service Credits - where Consumers are rewarded for their onsite activities with access to premium features and functions. Store Credits of course give your website a fully monetised approach to incentives.
Customers can accrue Store Credits in three ways - by making a purchase, similar to the Boots / Frequent Flyer / Nectar / Tesco loyalty points schemes, secondly by triggering any of the circa 40 Conversion Events (various online activities), and finally - Credits can be assigned manually to Users - either for incentive purposes or for transactional refunds.
The Checkout Screen (top) makes customers aware of the Store Credits system (name it what you like!) and displays 'Total Points' accrued and 'Points received' for that specific transaction.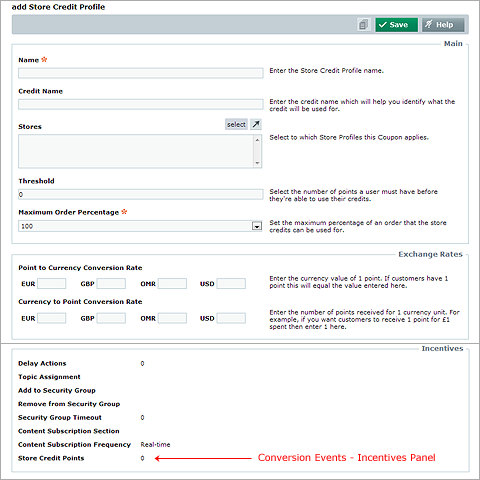 The above, second visual, is actually a composite of 2 different control-side screens - a 'Store Credit Profile' above and the 'Incentives' panel below - as appears on any of Affino's 40 Conversion Events. For the former, you set the Point limits - the Threshold / minimum points required for redemption, and the Maximum Order Percentage for which the points can be redeemed. There are two different conversion rates - the Points to Currency Conversion Rate - i.e. how many points to a penny/cent; then you have the Currency to Point Rate - which is how well you reward customers for their purchases. A typical rate for Points to Currency is 100 points = $1 in value, whilst $1 spent typically renders 1-5 points or up to $5 in credit for every $100 spent.

On each Catalogue Item you can activate the Credits via a 'Credit Scale' setting - default value is 1, but you can increase multiplier up to 10 meaning 10x points for that Item - a '0' value means the Item is exempt from Credits.

The bottom panel in the visual shows how you can assign 'Store Credit Points' for each of the 40 Conversion Events - so that you can monetarily reward loyal participants on your site - i.e. Customers who post reviews, ratings, recommendations and other useful editorial or social content / media.

The final component of how Store Credits incentivise is

...

Add Comments
|
permalink
|
email this
|

|





29 Jan 2013 2:16 PM

Popular

Comments

Profile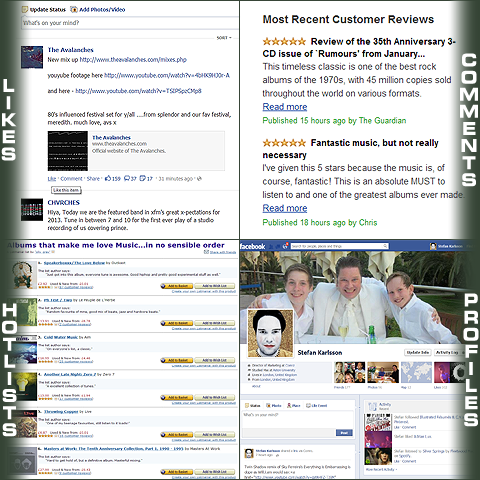 In my definition, the essence of Retail Social Commerce is not just the ability for customers to interact with ecommerce catalogue items and convey their likes and recommendations - it is the ability for other customers to correlate those recommendations with their own personal preferences.

The above illustration touches on the 4 key areas in my opinion, and I will reference examples of each here below:

LIKES - largely popularised by Facebook, these are now pretty much ubiquitous on most sites - you simply tick an option or click on a 'thumbs up' icon to indicate you like something - Facebook then cleverly references all these likes on the User's Timeline. This is the simplest form of recommendation.

HOTLISTS - Amazon popularised these with their ListMania Lists, but there are lots of different examples of this - for instance the various DJ charts on juno.co.uk. In some ways these are really just more structured listings of 'liked' items, but their impact is far stronger as when you see several examples of something you like in a list, you are more likely to check out the other entries. In various types of retail, Lists and Featured Charts are key to the selling process.

COMMENTS - The postive ones of these are a stronger form of 'likes' - in that a positive comment not only indicates a liking for something, but offers up additional collateral / reasons to buy. 'Likes' may have a nominal value of recommendation while the impact of positive comments / reviews is far stronger. I particularly like how Amazon lists the comments on the same page - I find comments hidden behind a tab are less impactful - far better to have a summary list of a couple with a more link than hiding all of them behind a one click selection.

PROFILES - Profiles are really useful as the final convincer for a recommendation, and this is one of the few areas where Amazon needs a lot of improvement. Being able to go to a user's profile - something like the Facebook Timeline - and get a real context for a person's likes and recommendations is key to the impact of those recommendations. We humans are always looking for like-minded souls, and really only pay heed to those we think are on the same wavelength as ourselves. In viewing a User's profile - with a full outline of

...

Add Comments
|
permalink
|
email this
|

|





03 Jan 2013 3:16 AM

Popular

Comments

Profile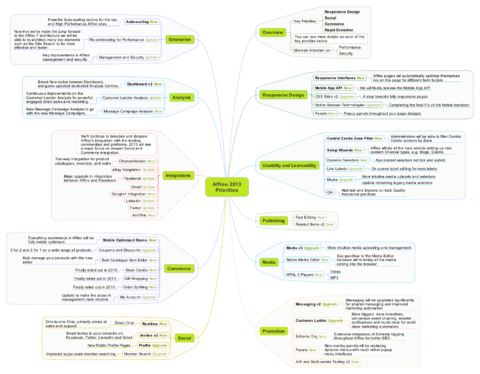 2013 is going to be all about being Responsive, so expect priorities to be very fluid to meet the ever evolving needs of the Affino community. One overwhelming priority we will have for 2013 will be Responsive Design. We're going to be introducing Responsive Skins which means that pages will transform to fit any device, however they are turned.

The second Responsive element is that in 2013 we are going to turbo-charge Affino's evolution. The past years have required a great deal of effort to evolve Affino to work on mobile and tablet devices; to become super-scalable and reliable; to run on the latest cloud-based architectures; and to have a new 21st Century management interface. All of those are now at highly evolved states.

It means that the Comrz team can now focus on rounding out Affino Social and Commercial platforms; do much deeper integration with the leading Social communities; evolve key communication and promotion aspects such as direct and real-time messaging, and a new approach to A/B and Multi-variate testing.

Below are many of the key challenges we will be tackling during the course of 2013. Expect the most productive Social Commerce platform to become even more so.

We will be introducing Responsive Skins to Affino in the first half of 2013. Responsive Skins will mean that Affino pages will automatically re-organise themselves to provide the best experience whatever form-factor of device is being used to navigate the pages. This will affect how everything is displayed on Affino sites and is the major undertaking for the year.

As part of the process, the new Skins will be light-weight, fully CSS-based and Affino will have built-in code compression to minimise the page size.

We will continue the major initiative to make Affino as learnable and usable as possible. This was what we spent most of 2012 on, and Affino is now much more usable than ever before. Key initiatives include new Setup Wizards, Control Centre Zone filters, and the new Media v3 management interfaces.

Continuing from last year we expect to make hundreds of further usability improvements throughout the course of the year and have already wrapped up some great ones for Affino 7.1.

Relating content becomes

...

3 comments
|
permalink
|
email this
|

|





22 Nov 2012 5:24 PM

Popular

Comments

Profile
Tags:
analysis
,
analytics
,
blogs
,
coldfusion
,
commerce
,
Control
,
control centre
,
design
,
design centre
,
design elements
,
events
,
Flash
,
Images
,
jobs
,
login
,
main menu
,
Media
,
publishing
,
registration
,
Search
,
Security
,
seo
,
services
,
Social
,
Dynamic Forms
,
Upgrade
,
Start
,
Comrz
,
Productivity
,
Development
,
Access
,
Display
,
social commerce
,
help
,
Support
,
Newsletters
,
Settings
,
CRM
,
Item
,
Forum
,
Affino
,
Editing
,
business
,
Menus
,
job
,
Starting
,
statistics
,
Price
,
faqs
,
Skin
,
Flow
,
eCards
,
Admin
,
Modules
,
Related Items
,
Standards

Our priority for Affino 7 has been to make the most productive platform available for running your business online. The integrated nature of Affino means you only have to manage your community, content, products, design, , promotions and analytics in one place. This is by far the most effective approach for managing an online business. What we have done with Affino 7 is to improve in every way how how you manage your online business.
Affino 7 has a New Control Centre, with the pages delivered by a New Page Generation Engine, and it runs on a New Cloud Architecture, all with the intent to deliver the best Social Commerce platform on the market today.
We've brought together great productivity ideas from the Affino user community and the Comrz team. It has meant re-styling, re-factoring and re-architecting Affino from the ground up to be more productive and easier to learn. Affino 7 also has a great new minimalist look, and now works great on tablets and mobile devices. With Affino 7 we've set a new baseline which means that every new element we roll out in Affino will be that much better.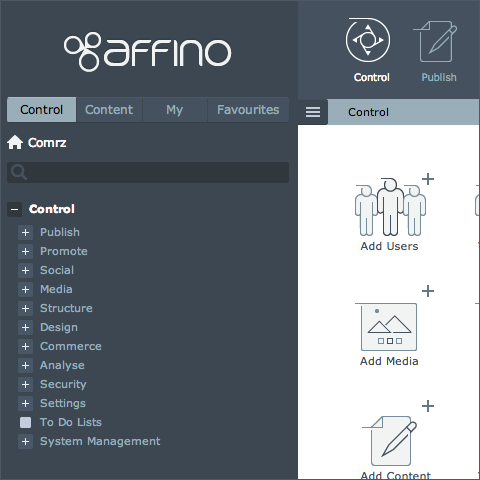 Affino has a brand new Control Centre and Live Edit tools. It is now optimised whether you're using it on a desktop, laptop, tablet or mobile device, so you can use it anywhere any time. We've really raised the bar for every management interface in Affino. You fill find almost every task easier to do, with great new short-cuts, lookups, help items, searches, lists, entry forms, and navigation elements.

Affino has been brought right up to the leading edge with it's platform support. It now runs on the latest technology which means it is faster, more reliable and more scalable than ever before. It also means that the Comrz team will be able to accelerate the development of the Affino platform in the weeks and months ahead.

There's a great new Design Centre. The Design Objects are now completely managed within native browsers with no Flash requirement. All the Design Control screens have seen significant updates and Affino now has better than ever custom CSS support. We've also introduced some much needed enhancements such as padding on Design Cells and full Font styling, along with a breakthrough ability for you to be able to secure each and every Design Element

...

3 comments
|
permalink
|
email this
|

|





15 Nov 2012 1:38 AM

Popular

Comments

Profile
Tags:
community
,
publish
,
Aido
,
Social
,
Comrz
,
ecommerce
,
social commerce
,
Filmutea
,
Affino
,
Eric Prydz
,
Ask My Community
,
SecondsOut
,
recruitment
,
Broadbean
,
Affino 7
,
Consumer Electronics
,
Lifestyle Brands
,
Lifestyle Portals
,
VIP Sites
,
Gill & Macmillan
,
Human Kinetics
,
Procurement Leaders
,
Bathroom and Showers Direct
,
Flower Innovations
,
Digital Doughnut
,
Investigo
,
Fillow
,
website monetisations
,
website revenue streams
,
online revenue generation
,
hybrid online retail
,
online recruitment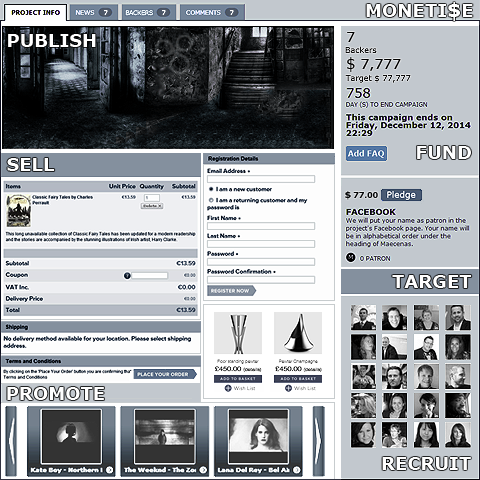 Affino 7 is one of the most versatile of the full-featured website systems and can be adapted for pretty much any means, there are certain scenarios though that Affino is already optimised for - high-impact out-of-the box performance.

Affino really is the complete Social Commerce Solution, so it is quite evident that in hybdrid retail and community deployments - Affino makes for a perfect choice - yet there are other less obvious permutations where Affino has significant pedigree and therefore eminent suitability too:

Publishing
There are a number of International flagship Publishing sites running on Affino, including Human Kinetics in the USA, Gill & Macmillan in Ireland and Procurement Leaders in the UK. All these publishers capitalise on the full spectrum of Affino functionality and utilise a myriad of targeted microsites using the best of Affino's commercial and social features. The scope of what all these organisations have already achieved - each running off just a single Multi-Site Affino Licence - is already impressive, and they are all still growing.

Social Commerce and Hybrid Online Retail
Whilst there are millions of ecommerce sites out there on the web, there are very few that combine multiple varieities of retail - digital, packaged goods, subscriptions and memberships - alongside social promotion and community support. Retail sites which allow their consumers to champion and support the products and services they consume are a breed apart and have many more revenue streams open to them - Affino proponents at the forefront of online retail include Aido, Bathroom and Showers Direct and Flower Innovations.

Commercial Communities and Professional Networks
Affino's version of community is one which generates revenues for the site owners by as many means possible - through fully servicing the community's members. Both Filmutea and Digital Doughnut have capitalised on Affino's capabilities for connecting and rewarding site owners and site users alike. Filmutea for instance offers a number of professional subscription and bulletin board facilities alongside an Affino-powered funding platform and auxiliary services - to provide the complete professional film maker's resource - a one-stop utility for anyone wanting to make films in Spain - seek out cast and crew, equip, fund, produce and

...

Add Comments
|
permalink
|
email this
|

|





04 Nov 2012 6:58 PM

Popular

Comments

Profile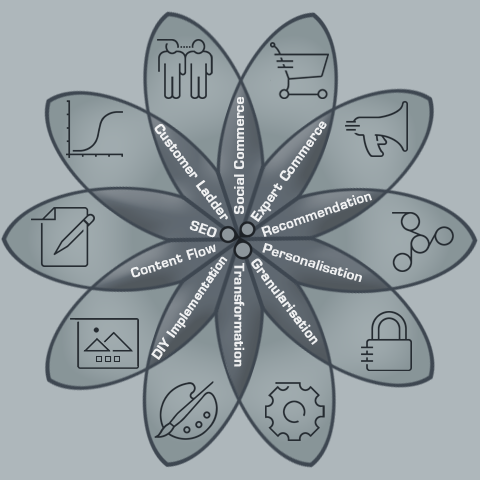 The great advantage of Affino 7 having so many different functions and technologies in a single system is that you get unprecedented synergies when combining them all together.
Right at the heart of Affino are the Social CRM and Automated Customer Ladder which elevate Affino's unique approach to Social Commerce to a level unseen in any other system. The true advantage of Affino is using the single interface to manage so many different evolved activities, including the following:
The perfect marriage of social and commercial interaction - all enabled through a seamless interface - gives you a highly beneficial customer experience and revenue generator
combining your customer registration database with analytics gives you a deep customer insight through direct social network integration and demographic data collection
Affino's 36 Conversion Event types allow you to automatically trigger off an incredible variety of actions on your site; you can use social gaming to drive customer engagement and further revenue channels; and the in-depth analytics on the elements which matter to you
Affino's depth and breadth of functionality, with built-in keyword and taxonomy management, allows for unprecedented and automated content tagging, indexing and analysis
Affino recommends connections, content and media based on a user's preferences and onsite activities
Expert, opinion-led retail pin-point targeted with Affino promotions - produces a powerful form of personalised commerce
Affino allows for multiple different types of complementary content and media to be displayed together on the same screen to encourage users to browse more and stay more engaged
Add Comments
|
permalink
|
email this
|

|





05 Oct 2012 1:35 PM

Popular

Comments

Profile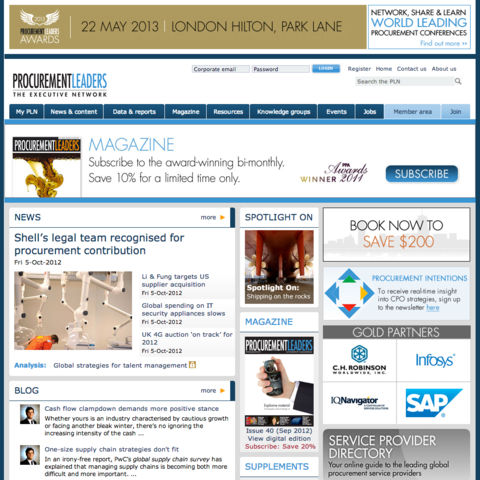 I spent a year as a Buyer (procurement executive) back in my early twenties, and the experience shaped a lot of the decisions I've made since career-wise and as the chief architect of Affino. My twin goals of making it easier to get information out to companies, and making it easier to buy for the client were largely shaped by the pressure which came from having to buy 10,000s of different products during the course of the year.
It's a great thing then that we're working with Procurement Leaders (PL) who do a top job of giving you the inside spin on the key trends and events which affect procurement professionals. I originally signed up to the weekly alerts to make sure that everything worked well and looked good, but increasingly I find myself reading the articles, many of which are excellent.
Procurement Leaders really innovate in how the deliver their content, and are always working great new approaches. As soon as each new delivery is out there, the next one is being worked on. If as a Publisher you want to see what's possible online then you won't go wrong taking a look at what they're doing (although expect it all to change soon enough).
There's a great deal of automation behind the scenes which makes the PL team more productive, especially useful is the Taxonomy / Key Word engine which allows for great drill-downs, searches and organisation of content by Topic as well as automated recommendations and Topic Channels.
We're looking forward to see how the site evolves next, whilst keeping me entertained with great content in the meantime. Although the site is run by the entire PL team, the Tech team who build and maintain the Affino site behind the scenes are first class and a pleasure to work with.

Add Comments
|
permalink
|
email this
|

|





24 Jul 2012 5:28 PM

Popular

Comments

Profile
Tags:
analysis
,
analytics
,
blogs
,
commerce
,
community manager
,
design
,
seo
,
Social
,
News
,
Development
,
social commerce
,
help
,
business
,
Stats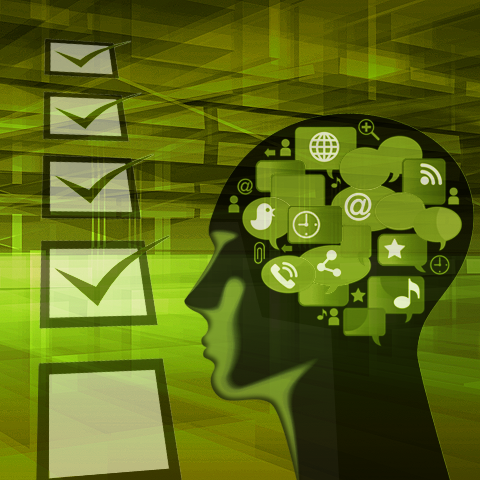 For any online business to succeed and remain relevant, you need to continuously review what is and isn't working. At a minimum you shuld do an annual review where you check your assumptions and apply your learnings for the year.
We're often asked to help work through this process. Below is a useful checklist when you're looking to update your online business.
The most important element is identifying your target market, i.e. who's your ideal client, the second level client, third level client etc.
You need to identify the tone of your site, i.e. if your site were a person who would they be: gender, age, look, way of speaking.
It's well worth checking out Stefan's excellent Brand Profile Creation piece for more details.
The most important barrier you have to overcome when setting up an onine business / website, is Trust. You have three key barriers that users have to overcome:
users need to get to trust your brand
you (i.e. the people on / behind the site)
and the products / services you're selling.
You have to put enough information online so that users who do not know you / your brand / your products are able to buy into them.

It's essential that you take your customers' perspective on this, don't assume they have any knowledge of who you are unless your company / brand is a household name already.

What are going to be your revenue drivers?

Rank them in order, e.g. subscriptions, service / product sales, ad revenues.

These define the priority in how they will be showcased / ordered.

What are the priorities you have with the website, e.g. customer experience, client sign-ups, revenues, usage growth

These determine a lot how you build your pages and what you showcase.

In our experience the simpler the proposition and presentation, the more likely business will take off online.

What are going to be the hooks that bring people back to your site regularly, e.g. blogs, news, stats, tools.

Do an analysis of what's driving the most traffic on your current site.

Without these hooks, people won't see what else you have to offer.

...

Add Comments
|
permalink
|
email this
|

|





03 Jul 2012 11:10 AM

Popular

Comments

Profile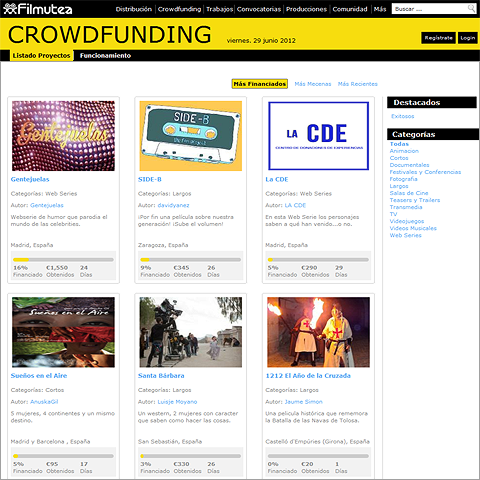 We're very proud of our relationship and collaboration with founding Filmutea members Robert and Gemma, whom we've been working with for the past 5 years. The intention was always to create the very best Film-Makers Resource - providing everything you might need to create motion picture magic.

The core of the site has long been the Jobs Boards, Classifieds, Events and Community - which help film makers network in order to find the cast, crew and equipment they need to produce their films.

Affino's new funding platform is the icing on the cake really - allowing film-makers to secure the capital required - through crowdfunding. The Funding Platform works along similar lines to Kickstarter - where members of the public can sponsor the production at different levels - each of which is usually recognised by some degree of reward or acknowledgment. Funding is enabled via PayPal transactions, and there are extensive settings and workflow profiles to handle the various projects posted. Typically the company that provides such a service (Filmutea in this instance) takes some form of commission - either a fixed rate or percentage of total collected.

Filmutea's holistic approach is summarised by it's current top level site structure:
Film Distribution | Crowdfunding | Jobs Board | Conferences / Festivals | Productions / Projects | Community

For us at Comrz this is the perfect showcase for Affino's full Social Commerce capabilties. In our opinion, this is one of the most rounded / complete professional networks on the Web, and the business model is incredibly strong - both for the service provider and service consumers. Currently Filmutea is targeted at Spain, and has 43,000 members; 19,000 Job Offers; nearly 6,000 Film Courses listed, and has its first major production under its belt.

If you are making films in Spain, this is your perfect launchpad. We look forward to seeing Filmutea expand into more territories in the next year or two. For anyone interested in creating a profitable professional social network, this is an excellent benchmark for how to do it.

...

1 comment
|
permalink
|
email this
|

|





19 Apr 2012 12:59 AM

Popular

Comments

Profile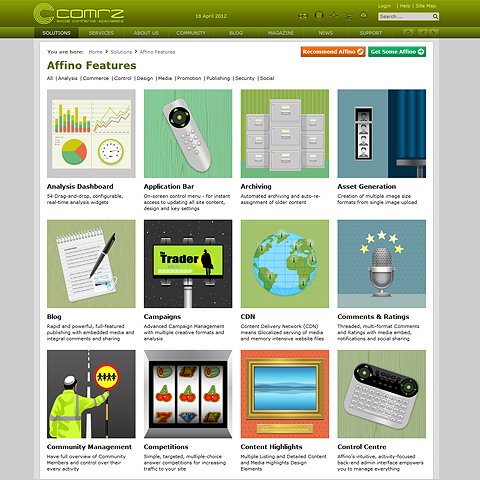 This project is the culmination of a year's work (for the Graphics!), in some ways it could be said to be the culmination of Affino's 15 years of development. We have long wanted an elegant means of showcasing the extensive Affino Features Set - and we have takled it a number of ways previously - trying to do a complete features listing (100's of individual elements - now archived for being too large), and the much celebrates 'Periodic Table of Affino Elements' - which has 128 listed features - yet still needs further essential additions.
This time it was going to be simpler, yet more detailed, more illustrative at the same time, and punctuated with some lovely iconographic and obviously meaningful pictures and screencaptures. We hand-picked a list of 50 key features as we saw them; alas 'Affino Messenger' still remains to be re-developed in HTML5 (some way off), but the other 49 can now be found listed on the pictured Affino Features screen; they are as follows:
| | | | | | | | | | |
| --- | --- | --- | --- | --- | --- | --- | --- | --- | --- |
| Analysis Dashboard | | | Application Bar | | | Archiving | | | Asset Generation |
| Blog | | | Campaigns | | | CDN | | | Comments & Rating |
| Community Management | | | Competitions | | | Content Highlights | | | Control Centre |
| Customer Ladder | | | Design Centre | | | Digital Goods | | | Directories |
| Discussion Boards | | | Ditribution Automation | | | Events | | | Forms |
| Groups | | | Incoming Feeds | | | Integration | | | Live Edit |
| Media Editor | | | Media Embeds | | | Media Library | | | Member Profiles |
| Membership | | | Mobile Formats | | | MP3 Player | | | Newsletters |
| Predictive Search | | | Recommendations | | | Related Items | | | Security |
| Social Commerce | | | Social Connectors | | | Social CRM | | | Store Profiles |
| Structure Management | | | Subscriptions | | | Syndication | | | Team Time |
| Topics and Keywords | | | Video Player | | | Web Services API | | | Workflows |
| WYSIWYG Editor | | | | | | | | | |
The intention is that they serve as a great reference for all of us, customers new and old - in getting a full and proper picture of Affino, and reminding us of useful features, functions and utilities that we were thinking of making use of but never quite got round to implementing on our site/s.

...

4 comments
|
permalink
|
email this
|

|





02 Mar 2012 7:44 PM

Popular

Comments

Profile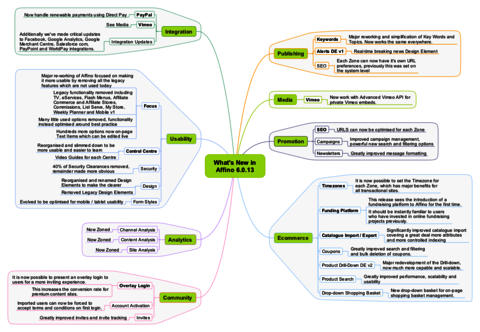 This release sees the biggest leap in Affino's usability we have ever made. There have been hundreds of improvements made so that Affino is easier to learn and use. The biggest change is the complete reworking of the Control Centre, and although many of the changes are subtle, everything is now within easy reach. Two clicks and a swipe when using tablets or mobiles.

The usability changes go further to make it much easier to set up security, build page designs, style your sites, run stores and tailor the SEO on each Zone. We also removed a great deal of legacy functionality which has allowed us to streamline Affino further and innovate the new flat navigation that you get in this release.

Ecommerce is the second area which has seen some dramatic improvements. We now have Timezone support for the first time in Affino, so that you can run sites and stores across multiple regions on the same instance. Campaign driven commerce is greatly improved with better campaign management, catalogue management, coupon and order management, product search and product drill-down menu.

We have also improved the shopping experience with a great new drop-down shopping basket and the login overlay which allows for improved direct selling of subscriptions / memberships from the login page.

A major new feature is the introduction of the Funding Platform into Affino. People familiar with KickStarter and similar fundraising sites will be at home using the Affino version.

Many more elements have been Zoned particularly within lookups and Analytics, where Channel, Content and Site Analysis are all now Zoned for the first time. This takes Affino further towards our goal of being able to Zone the whole Control Centre. Watch out also for the tweaks we've made to the App Bar, they take a bit of getting used to, but you'll notice that you speed up over time.

Altogether there were nearly 300 projects completed for this release, and we had to re-write the Affino updater to be able to handle the scope of all the changes, making this by far the biggest update yet.

We see Affino 6.0.13 as great foundation release to build on this year, and the changes we've made will allow us to drive forward on the plans for 2012 and accelerate Affino's development moving ahead. Expect another release later in March

...

Add Comments
|
permalink
|
email this
|

|





02 Mar 2012 4:29 PM

Popular

Comments

Profile
This release is primarily focused on Usability, with a whole range of updates for campaign driven ecommerce sites. We continue to be driven by the desire to speed things up for our users, removing un-used functionality is a major aspect of that, and this release is the biggest 'spring clean' we've ever done for Affino.
With Affino evolving to be more and more touch and mobile driven we have completed a major review of all the aspects which need to be updated over the coming year. Along the way we have identified dozens of little used Affino elements which we have decided to remove rather than update. This will allow us to focus our resources so that we can update all the elements which are used heavily both faster and to make them better than ever. It also clears out a great deal of 'clutter' that was serving no great purpose.
Key Enhancements
We have removed a fifth of Affino's Design Elements and reorganised the rest; removed 40% of the Security Clearances and reorganised the rest; reorganised the Control Centre whilst removing 15% of the Controls; simplified Form Styles to make them mobile and tablet optimised; and simplified dozens of interfaces to remove complexity and 'gotchas'.
In removing and reorganising all these elements and many more, we have greatly simplified Affino and reduced the learning curve for all users and especially new ones. The day to day impact on existing sites will be absolutely minimal since we have extensively researched how Affino sites are being used and which elements are under-used.
A great deal of our focus has also gone into improving the usability of the existing elements. Dozens of management interfaces have been improved, ranging from minor fixes such as adding new filtering options through to complete overhauls. These will add up to a great deal of time saved each day for actively managed sites.
The Control Centre has now been firmly built around each of the ken key management screens, e.g. Publish, Promote, Communicate. Each has its own video guide and all the management tools for that area are immediately accessible from each Centre.
We cover each element in brief which has been removed below, and in more detail in a separate Blog post.
This

...

7 comments
|
permalink
|
email this
|

|





28 Dec 2011 5:47 PM

Popular

Comments

Profile
We had big plans for developing Affino this year and moved it ahead in almost every way. We reached the 12th version of Affino 6, of which 7 were launched during the year. We worked through 1,408 improvement projects both large and small, some taking months others mere minutes.
Every single aspect of Affino saw improvement during the course of the year and is now faster, easier and more pleasing on the eye.
We started the year with three priorities:
To make affino:
more usable

more mobile

more commercial
During the course of the year though that a big part of Affino's usability came down to speed and it simply wasn't fast or reliable enough on a consistent basis. So we added in three more priorities:
To also make Affino:
faster

more scalable

more stable
We saw great strides across all areas, and really nailed the last three.
This post covers the key highlights for each of our priorities and for the major Affino application areas.
Nothing is more important to the success of a product than to make it as usable as possible. This allows people to do and achieve the maximum in the minimum timeframe. Which means better looking sites, higher conversion rates and more engaging communities.

We have removed hundreds of usability issues from Affino during the year. Each time a support request arises we've looked into the issue and seen if we can either remove it or make it so easy that a user never has to ask the question again. In most cases we've succeeded and now users are able to do most tasks instantly.

The Control Centre has had a big makeover, and has now mostly been upgraded to use pure native browser technologies (i.e. no Flash). This means it is now faster and more consistent. We've also looked into many of the major modules such as Store Management, Campaigns and the Media Library and completely re-worked them to be far more effective.

A big focus was to make the Affino user interfaces more consistent and modern. All the interfaces have had a makeover and are now considerably easier to use, and all have a consistent 'Affino Style' presentation.

We've also added lots of smarts to the user interface with sticky elements that are always on the screen, clearer buttons

...

Add Comments
|
permalink
|
email this
|

|





22 Dec 2011 12:00 PM

Popular

Comments

Profile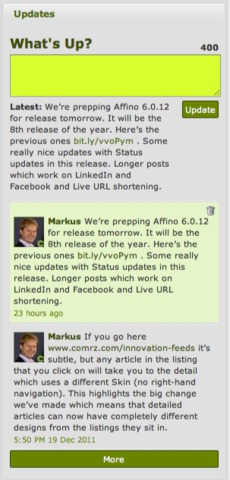 This is the eighth and final release of 2012. It's a great ecommerce release. Almost every enhancement in this release improves the store management experience. The most significant enhancement is the ability to have Detail Skins on a Channel. This allows for specific Skins to display product details. These can be coupled with all the great new ecommerce Design Elements we've created over recent releases including the great new Recently Viewed Products DE.
It is now considerably easier to manage multiple stores on a single instance with improved Control Centre listings, searches and filters. We've improved product and order exports and imports and the Checkout now has new abilities to improve user profiling and gather address details.
We've introduced Supplier Management for the first time. This is especially useful for sites which are acting as hubs, reselling for 3rd parties. We've also upgraded a lot of the ecommerce management interfaces to make them more usable and effective.
It's not just the core ecommerce capabilities that have been upgraded but a lot of associated elements for example Campaign Management which has had a major overhaul to handle high volumes of campaigns. Status updates now make for more effective promotions and the improved handling of Headings means that Affino's SEO delivery has just gone up a notch.
All together there are around 100 improvements in this release so the experience will be improved for everyone no matter how you use Affino.
This release has a very significant update, the ability of have dedicated Detail Skins. The update should be smooth, however it is recommended that it is done during Comrz's support hours should an issue arise which needs support.
It is essential that you run through the complete update process starting with the Affino Updater, followed by the System Update, Re-Initialise Site, Design Element Update and Skin Update; all of which are available on the Settings > Update screen. It means it is now possible to have up to 14 Skins per channel.
Detail Skin v1

This is the biggest structural change to come to Affino for some time. It will now be possible to have Main and Detail skins on each channel. The Main Skins will remain the default

...

1 comment
|
permalink
|
email this
|

|


| | |
| --- | --- |
| Found: 54 Displaying: 1-20 | |

Subscribe to feed

Subscribe by email
Recent Visitors