You are here:
Home
|
Blogs
|
Comrz Social Commerce Blog





30 May 2012 10:51 AM

Popular

Comments

Profile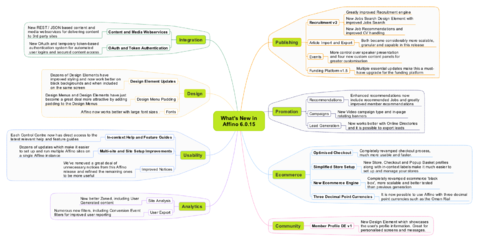 This is a well rounded Affino release in that there's something for all Affino users. Beginners will have a lot less questions, as we've answered hundreds more by moving settings into context, simplified options, provided more meaningful help and added the new in-context Help Guides and Features. Shoppers will find the new optimised checkout to be simple, clear and fast; and store managers will find it is now much easier to set up and manage stores. Recruiters will love the new recruitment engine and all the updates we've done to smooth the entire recruitment process.

Startups will find raising project finance has gotten a lot easier with all the updates we've made to the Funding Platform. Designers will love the improved styling on the Design Elements. Marketers have improved tools for recommendations, campaigns and lead generation and better analytics and reporting. Community Mangers have the great new Member Profile DE for better personalisation, improved notifications and user management. Finally, Developers have access to the great new content and authentication APIs.

We've spent a lot of time setting up new Affino instances over the past couple of months to test specific use cases such as the new Funding Platform and Recruitment engines. This has highlighted a number of issues with creating and running multiple sites on a single Affino instance and we've resolved all the issues we came across. It means it's now considerably easier to set up and run as many Affino sites as you want.

Affino's quality level has been raised considerably in this release. We now have a great new Business Analyst / Project Manager / QA Pro in Catherine Phillips, who will be a key member of the team driving forward Affino's excellence. She brings a lot of smarts, insight and attention to detail which will be reflected in Affino moving ahead. We've also developed a number of new regression tests and added more test instances to ensure we're delivering the best Affino releases we can.

Make sure that you check out the new Feature Guides and updated Help Guides, as well as the brilliant Affino Design Elements page which crams most of the Affino DEs into one very long screen.

...

Add Comments
|
permalink
|
email this
|

|





30 May 2012 10:22 AM

Popular

Comments

Profile
Tags:
AJAX
,
analysis
,
Channel
,
Control
,
control centre
,
design
,
design elements
,
events
,
jobs
,
login
,
Media
,
registration
,
Search
,
Security
,
solutions
,
Social
,
Upgrade
,
Comrz
,
Guide
,
Development
,
Access
,
Projects
,
Display
,
ecommerce
,
help
,
Support
,
Settings
,
Section
,
Password Reminder
,
Address
,
Affino
,
Editing
,
Documents
,
Zone
,
Menus
,
job
,
Starting
,
statistics
,
Message Board
,
Skin
,
Flow
,
eTests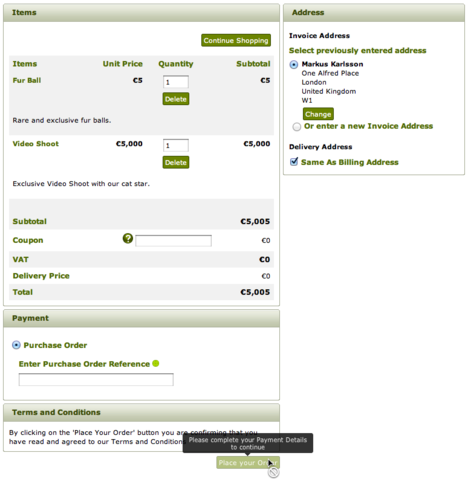 Affino 6.0.15 Release - Ecommerce, Usability and Recruitment
This release is the culmination of seven months work on the new Optimised Affino Checkout. During the course of the last six months we have rolled out dozens of incremental improvements (and fixes) to the checkout process to drive higher conversion rates. The checkout experience has been taken to the next level with a complete revamp for simple, fast checkouts. We've also rolled out a new ecommerce engine, greatly simplified the ecommerce setup and made many nuanced enhancements to the whole ecommerce experience.
We continue our focus on Usability with in-context Help and Feature guides in each Control Centre. We have also greatly improved the process for setting up and running multiple Affino sites on a single Affino instance. Hundreds more elements have been made more intuitive than they were previously, and a lot of rough edges have been smoothed in this release.
Recruitment also sees a great leap forward with dozens of essential enhancements, including a great new Job Search Design Element, recommended jobs, refined CV handling and much more.
Affino's style has also subtly improved in this release. Many elements now look better than before, in particular Affino Design Elements, but also the font sizes and proportions, many notifications, most ecommerce and recruitment elements, member search, the funding platform and events.
This is a Major update which sees amends to everything from registering, logging in, adding to the basket, checking out, member's profiles, all Design Elements and much more. It is essential that you set aside time to review your site after the update. Ensure that you liaise with your Account Manager prior to the update and update during Comrz support hours to ensure a rapid response to any issues.

Note: you are strongly advised to become familiar with the new checkout on Public Staging prior to updating to this release. It is a complete reworking of how it works and it's essential that you are prepared for the changes.

It is essential that you run through the complete update process starting with the Affino Updater, followed by the System Update, Re-Initialise Site, Design Element Update, Skin Update and finally Clear Guest Cache; all of which are available on

...

Add Comments
|
permalink
|
email this
|

|





10 May 2012 10:10 AM

Popular

Comments

Profile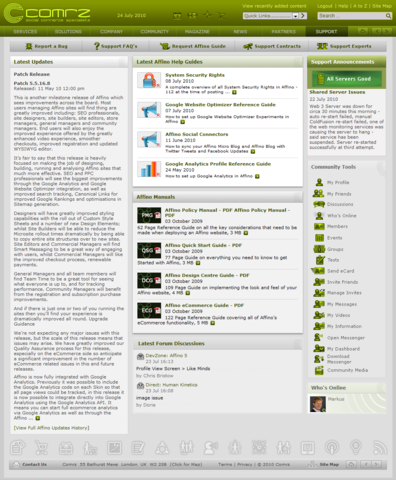 Over the past year there have been almost 100,000 posts on the various Affino forums, which makes them by far the most active part of Comrz's support and of the Comrz website. There are lots of other ways users can find the answers to their questions faster and more effectively.
Below are the key ways you can answer your questions in the fastest way:
The Application Bar (which sits at the base of every one of your web pages when you're logged in as an Editor) is the most useful tool you have in your arsenal. A good 10% of questions we get involve things that can be found right on the page. The Content, Design and Text tools allow you to go right to the appropriate settings and profile screens for most elements on your live page.
The Live Design mode does the same for aspects of your page design. It means that you're rarely more than one click away from the settings or creating new content within the part of your website you're in. Get familiar with the Application Bar, click on the various links, see how you can instantly copy your article to create a new one, or tweak and regenerate your Skin (page design).
The Control Centre Super Navigator (the navigation menu on the left-hand side) can immediately take you to whatever management interface (and answer 20% of your questions), content or media item, or your personal favourites at a click. If you're not certain where to find how to export content, simply type 'export' on the Control tab and you'll see all the different types of export you can do from Affino.
Likewise, if you want to find a specific article, or media items, or section then simply go to the Content tab and type out the name, then hit the Search icon. You'll get a list of all the items with matching titles. Between these two options you can quickly track down pretty much anything. The My tab is also incredibly useful as it will show you your content stream and allow you to instantly go back to any of your recent content.
In-line Help
You can always turn on the in-line help when editing in the Control Centre. This will provide (usually pretty useful) information on what a specific field is for. It can be especially useful for aspects such as import and export

...

2 comments
|
permalink
|
email this
|

|



Subscribe to feed

Subscribe by email
Recent Visitors