You are here:
Home
|
Blogs
|
Comrz Social Commerce Blog





20 Feb 2011 9:01 AM

Popular

Comments

Profile
Loading Flash Application ...
It's taken a while to get going, but we've started doing intro videos for each new (significant) Affino release. This reel goes into some depth on key features in Affino 6.0.6 including (in order):
Live Labels Archiving v2 Incoming Feeds v2 Drop Box Event Commerce Credits To Do Lists v2 Newsletter and Campaign Enhancements CV Files Google Analytics Newsletter Tracking Restructure
The video is around 20 minutes so feel free to jump to the bits which are relevant to you.

Add Comments
|
permalink
|
email this
|

|





10 Feb 2011 11:54 AM

Popular

Comments

Profile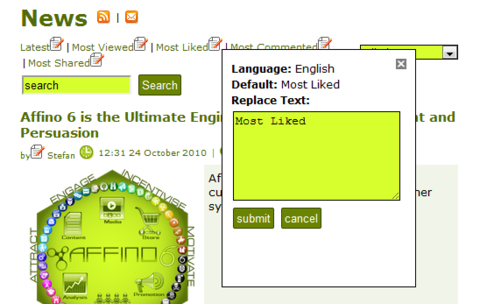 This release sees the introduction of great new productivity features, some key E-commerce enhancements, and significant improvements for Affino's handling of 'Fast Content'. All together there are over 150 updates in this release.

The new Restructure interface allows editors to rapidly transform their site's structure; a new Live Label mode means that it is now possible to view and edit most labels directly on the live page; and the new To Do Lists help users to get complex tasks done quickly.

There are a lot of little things in this release which make Affino more intuitive and easier to use, such as: instant Live Edit mode; the Smart Image and Text DE becomes Button; the first steps of the new Control search layout; Blogging now always takes you to your own blog; you can now see when there is a new Affino release in the Control Centre; Channels, Checkout, Newsletters, Security all reorganised for easier management; Affino now automatically detects the type of media embed you're doing and much more.

Event Commerce means that for the first time it is possible to directly sell Events in Affino, organisations which run many annual events will find them much easier to manage. Premium Content listings make it possible to highlight all the premium content which is available on the site in a much more effective manner than has been possible to-date. The new Credits solution means that it is now much more effective to sell online services.

Affino sites are increasingly using Incoming Feeds to drive their SEO, content and community automation. This is great, but it means that some sites have been adding tens of thousands of articles, images and videos per day. This additional content volume soon adds up and causes the Affino performance to degrade. As a result this release sees major updates to both Incoming Feeds and Archiving. It means that the Fast Content is pulled in, displayed whilst it is adding value, and then removed from the site to prevent an unnecessary build-up.

We have also integrated Affino with Dropbox for super-simple media uploads. It solves a major on-going issue with uploading large files. By using Dropbox's excellent upload capabilities it is possible to upload videos and other large media files in a way that simply hasn't been possible. ...

1 comment
|
permalink
|
email this
|

|



Subscribe to feed

Subscribe by email