You are here:
Home
|
Blogs
|
Comrz Social Commerce Blog





03 Jan 2013 3:16 AM

Popular

Comments

Profile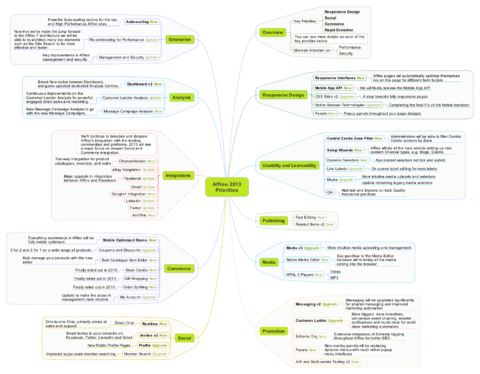 2013 is going to be all about being Responsive, so expect priorities to be very fluid to meet the ever evolving needs of the Affino community. One overwhelming priority we will have for 2013 will be Responsive Design. We're going to be introducing Responsive Skins which means that pages will transform to fit any device, however they are turned.

The second Responsive element is that in 2013 we are going to turbo-charge Affino's evolution. The past years have required a great deal of effort to evolve Affino to work on mobile and tablet devices; to become super-scalable and reliable; to run on the latest cloud-based architectures; and to have a new 21st Century management interface. All of those are now at highly evolved states.

It means that the Comrz team can now focus on rounding out Affino Social and Commercial platforms; do much deeper integration with the leading Social communities; evolve key communication and promotion aspects such as direct and real-time messaging, and a new approach to A/B and Multi-variate testing.

Below are many of the key challenges we will be tackling during the course of 2013. Expect the most productive Social Commerce platform to become even more so.

We will be introducing Responsive Skins to Affino in the first half of 2013. Responsive Skins will mean that Affino pages will automatically re-organise themselves to provide the best experience whatever form-factor of device is being used to navigate the pages. This will affect how everything is displayed on Affino sites and is the major undertaking for the year.

As part of the process, the new Skins will be light-weight, fully CSS-based and Affino will have built-in code compression to minimise the page size.

We will continue the major initiative to make Affino as learnable and usable as possible. This was what we spent most of 2012 on, and Affino is now much more usable than ever before. Key initiatives include new Setup Wizards, Control Centre Zone filters, and the new Media v3 management interfaces.

Continuing from last year we expect to make hundreds of further usability improvements throughout the course of the year and have already wrapped up some great ones for Affino 7.1.

Relating content becomes

...

3 comments
|
permalink
|
email this
|

|





22 Nov 2012 5:24 PM

Popular

Comments

Profile
Tags:
analysis
,
analytics
,
blogs
,
coldfusion
,
commerce
,
Control
,
control centre
,
design
,
design centre
,
design elements
,
events
,
Flash
,
Images
,
jobs
,
login
,
main menu
,
Media
,
publishing
,
registration
,
Search
,
Security
,
seo
,
services
,
Social
,
Dynamic Forms
,
Upgrade
,
Start
,
Comrz
,
Productivity
,
Development
,
Access
,
Display
,
social commerce
,
help
,
Support
,
Newsletters
,
Settings
,
CRM
,
Item
,
Forum
,
Affino
,
Editing
,
business
,
Menus
,
job
,
Starting
,
statistics
,
Price
,
faqs
,
Skin
,
Flow
,
eCards
,
Admin
,
Modules
,
Related Items
,
Standards

Our priority for Affino 7 has been to make the most productive platform available for running your business online. The integrated nature of Affino means you only have to manage your community, content, products, design, , promotions and analytics in one place. This is by far the most effective approach for managing an online business. What we have done with Affino 7 is to improve in every way how how you manage your online business.
Affino 7 has a New Control Centre, with the pages delivered by a New Page Generation Engine, and it runs on a New Cloud Architecture, all with the intent to deliver the best Social Commerce platform on the market today.
We've brought together great productivity ideas from the Affino user community and the Comrz team. It has meant re-styling, re-factoring and re-architecting Affino from the ground up to be more productive and easier to learn. Affino 7 also has a great new minimalist look, and now works great on tablets and mobile devices. With Affino 7 we've set a new baseline which means that every new element we roll out in Affino will be that much better.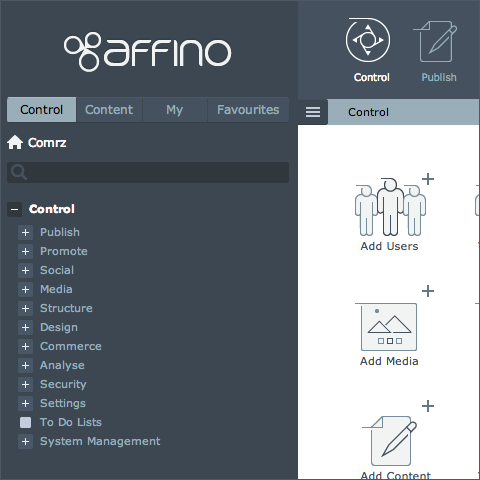 Affino has a brand new Control Centre and Live Edit tools. It is now optimised whether you're using it on a desktop, laptop, tablet or mobile device, so you can use it anywhere any time. We've really raised the bar for every management interface in Affino. You fill find almost every task easier to do, with great new short-cuts, lookups, help items, searches, lists, entry forms, and navigation elements.

Affino has been brought right up to the leading edge with it's platform support. It now runs on the latest technology which means it is faster, more reliable and more scalable than ever before. It also means that the Comrz team will be able to accelerate the development of the Affino platform in the weeks and months ahead.

There's a great new Design Centre. The Design Objects are now completely managed within native browsers with no Flash requirement. All the Design Control screens have seen significant updates and Affino now has better than ever custom CSS support. We've also introduced some much needed enhancements such as padding on Design Cells and full Font styling, along with a breakthrough ability for you to be able to secure each and every Design Element

...

3 comments
|
permalink
|
email this
|

|





05 Oct 2012 1:35 PM

Popular

Comments

Profile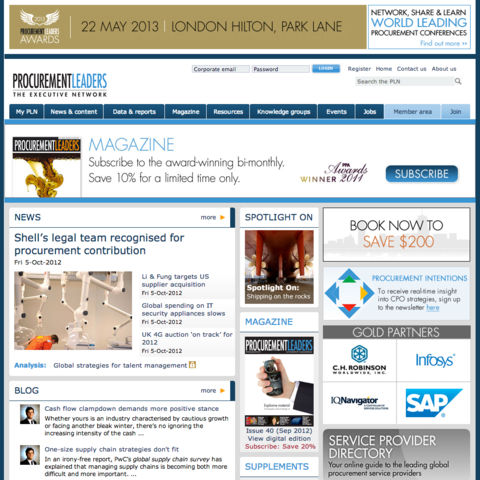 I spent a year as a Buyer (procurement executive) back in my early twenties, and the experience shaped a lot of the decisions I've made since career-wise and as the chief architect of Affino. My twin goals of making it easier to get information out to companies, and making it easier to buy for the client were largely shaped by the pressure which came from having to buy 10,000s of different products during the course of the year.
It's a great thing then that we're working with Procurement Leaders (PL) who do a top job of giving you the inside spin on the key trends and events which affect procurement professionals. I originally signed up to the weekly alerts to make sure that everything worked well and looked good, but increasingly I find myself reading the articles, many of which are excellent.
Procurement Leaders really innovate in how the deliver their content, and are always working great new approaches. As soon as each new delivery is out there, the next one is being worked on. If as a Publisher you want to see what's possible online then you won't go wrong taking a look at what they're doing (although expect it all to change soon enough).
There's a great deal of automation behind the scenes which makes the PL team more productive, especially useful is the Taxonomy / Key Word engine which allows for great drill-downs, searches and organisation of content by Topic as well as automated recommendations and Topic Channels.
We're looking forward to see how the site evolves next, whilst keeping me entertained with great content in the meantime. Although the site is run by the entire PL team, the Tech team who build and maintain the Affino site behind the scenes are first class and a pleasure to work with.

Add Comments
|
permalink
|
email this
|

|





24 Jul 2012 5:28 PM

Popular

Comments

Profile
Tags:
analysis
,
analytics
,
blogs
,
commerce
,
community manager
,
design
,
seo
,
Social
,
News
,
Development
,
social commerce
,
help
,
business
,
Stats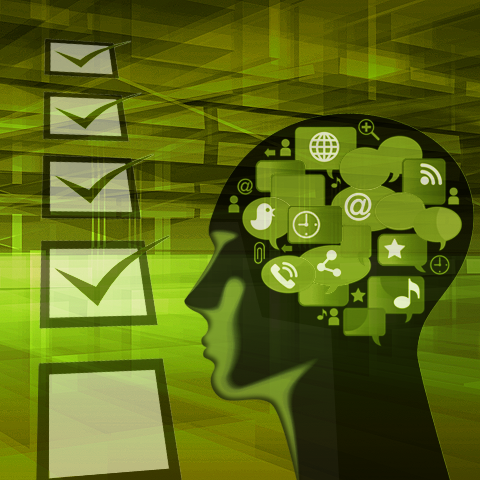 For any online business to succeed and remain relevant, you need to continuously review what is and isn't working. At a minimum you shuld do an annual review where you check your assumptions and apply your learnings for the year.
We're often asked to help work through this process. Below is a useful checklist when you're looking to update your online business.
The most important element is identifying your target market, i.e. who's your ideal client, the second level client, third level client etc.
You need to identify the tone of your site, i.e. if your site were a person who would they be: gender, age, look, way of speaking.
It's well worth checking out Stefan's excellent Brand Profile Creation piece for more details.
The most important barrier you have to overcome when setting up an onine business / website, is Trust. You have three key barriers that users have to overcome:
users need to get to trust your brand
you (i.e. the people on / behind the site)
and the products / services you're selling.
You have to put enough information online so that users who do not know you / your brand / your products are able to buy into them.

It's essential that you take your customers' perspective on this, don't assume they have any knowledge of who you are unless your company / brand is a household name already.

What are going to be your revenue drivers?

Rank them in order, e.g. subscriptions, service / product sales, ad revenues.

These define the priority in how they will be showcased / ordered.

What are the priorities you have with the website, e.g. customer experience, client sign-ups, revenues, usage growth

These determine a lot how you build your pages and what you showcase.

In our experience the simpler the proposition and presentation, the more likely business will take off online.

What are going to be the hooks that bring people back to your site regularly, e.g. blogs, news, stats, tools.

Do an analysis of what's driving the most traffic on your current site.

Without these hooks, people won't see what else you have to offer.

...

Add Comments
|
permalink
|
email this
|

|





02 Mar 2012 7:44 PM

Popular

Comments

Profile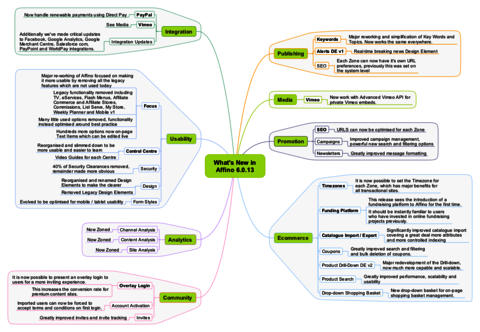 This release sees the biggest leap in Affino's usability we have ever made. There have been hundreds of improvements made so that Affino is easier to learn and use. The biggest change is the complete reworking of the Control Centre, and although many of the changes are subtle, everything is now within easy reach. Two clicks and a swipe when using tablets or mobiles.

The usability changes go further to make it much easier to set up security, build page designs, style your sites, run stores and tailor the SEO on each Zone. We also removed a great deal of legacy functionality which has allowed us to streamline Affino further and innovate the new flat navigation that you get in this release.

Ecommerce is the second area which has seen some dramatic improvements. We now have Timezone support for the first time in Affino, so that you can run sites and stores across multiple regions on the same instance. Campaign driven commerce is greatly improved with better campaign management, catalogue management, coupon and order management, product search and product drill-down menu.

We have also improved the shopping experience with a great new drop-down shopping basket and the login overlay which allows for improved direct selling of subscriptions / memberships from the login page.

A major new feature is the introduction of the Funding Platform into Affino. People familiar with KickStarter and similar fundraising sites will be at home using the Affino version.

Many more elements have been Zoned particularly within lookups and Analytics, where Channel, Content and Site Analysis are all now Zoned for the first time. This takes Affino further towards our goal of being able to Zone the whole Control Centre. Watch out also for the tweaks we've made to the App Bar, they take a bit of getting used to, but you'll notice that you speed up over time.

Altogether there were nearly 300 projects completed for this release, and we had to re-write the Affino updater to be able to handle the scope of all the changes, making this by far the biggest update yet.

We see Affino 6.0.13 as great foundation release to build on this year, and the changes we've made will allow us to drive forward on the plans for 2012 and accelerate Affino's development moving ahead. Expect another release later in March

...

Add Comments
|
permalink
|
email this
|

|





02 Mar 2012 4:29 PM

Popular

Comments

Profile
This release is primarily focused on Usability, with a whole range of updates for campaign driven ecommerce sites. We continue to be driven by the desire to speed things up for our users, removing un-used functionality is a major aspect of that, and this release is the biggest 'spring clean' we've ever done for Affino.
With Affino evolving to be more and more touch and mobile driven we have completed a major review of all the aspects which need to be updated over the coming year. Along the way we have identified dozens of little used Affino elements which we have decided to remove rather than update. This will allow us to focus our resources so that we can update all the elements which are used heavily both faster and to make them better than ever. It also clears out a great deal of 'clutter' that was serving no great purpose.
Key Enhancements
We have removed a fifth of Affino's Design Elements and reorganised the rest; removed 40% of the Security Clearances and reorganised the rest; reorganised the Control Centre whilst removing 15% of the Controls; simplified Form Styles to make them mobile and tablet optimised; and simplified dozens of interfaces to remove complexity and 'gotchas'.
In removing and reorganising all these elements and many more, we have greatly simplified Affino and reduced the learning curve for all users and especially new ones. The day to day impact on existing sites will be absolutely minimal since we have extensively researched how Affino sites are being used and which elements are under-used.
A great deal of our focus has also gone into improving the usability of the existing elements. Dozens of management interfaces have been improved, ranging from minor fixes such as adding new filtering options through to complete overhauls. These will add up to a great deal of time saved each day for actively managed sites.
The Control Centre has now been firmly built around each of the ken key management screens, e.g. Publish, Promote, Communicate. Each has its own video guide and all the management tools for that area are immediately accessible from each Centre.
We cover each element in brief which has been removed below, and in more detail in a separate Blog post.
This

...

7 comments
|
permalink
|
email this
|

|





28 Dec 2011 5:47 PM

Popular

Comments

Profile
We had big plans for developing Affino this year and moved it ahead in almost every way. We reached the 12th version of Affino 6, of which 7 were launched during the year. We worked through 1,408 improvement projects both large and small, some taking months others mere minutes.
Every single aspect of Affino saw improvement during the course of the year and is now faster, easier and more pleasing on the eye.
We started the year with three priorities:
To make affino:
more usable

more mobile

more commercial
During the course of the year though that a big part of Affino's usability came down to speed and it simply wasn't fast or reliable enough on a consistent basis. So we added in three more priorities:
To also make Affino:
faster

more scalable

more stable
We saw great strides across all areas, and really nailed the last three.
This post covers the key highlights for each of our priorities and for the major Affino application areas.
Nothing is more important to the success of a product than to make it as usable as possible. This allows people to do and achieve the maximum in the minimum timeframe. Which means better looking sites, higher conversion rates and more engaging communities.

We have removed hundreds of usability issues from Affino during the year. Each time a support request arises we've looked into the issue and seen if we can either remove it or make it so easy that a user never has to ask the question again. In most cases we've succeeded and now users are able to do most tasks instantly.

The Control Centre has had a big makeover, and has now mostly been upgraded to use pure native browser technologies (i.e. no Flash). This means it is now faster and more consistent. We've also looked into many of the major modules such as Store Management, Campaigns and the Media Library and completely re-worked them to be far more effective.

A big focus was to make the Affino user interfaces more consistent and modern. All the interfaces have had a makeover and are now considerably easier to use, and all have a consistent 'Affino Style' presentation.

We've also added lots of smarts to the user interface with sticky elements that are always on the screen, clearer buttons

...

Add Comments
|
permalink
|
email this
|

|





22 Dec 2011 12:00 PM

Popular

Comments

Profile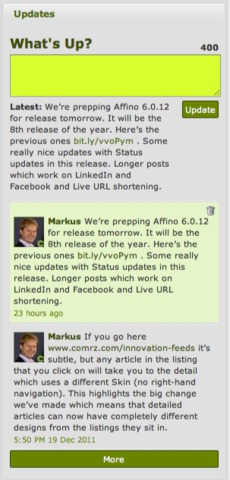 This is the eighth and final release of 2012. It's a great ecommerce release. Almost every enhancement in this release improves the store management experience. The most significant enhancement is the ability to have Detail Skins on a Channel. This allows for specific Skins to display product details. These can be coupled with all the great new ecommerce Design Elements we've created over recent releases including the great new Recently Viewed Products DE.
It is now considerably easier to manage multiple stores on a single instance with improved Control Centre listings, searches and filters. We've improved product and order exports and imports and the Checkout now has new abilities to improve user profiling and gather address details.
We've introduced Supplier Management for the first time. This is especially useful for sites which are acting as hubs, reselling for 3rd parties. We've also upgraded a lot of the ecommerce management interfaces to make them more usable and effective.
It's not just the core ecommerce capabilities that have been upgraded but a lot of associated elements for example Campaign Management which has had a major overhaul to handle high volumes of campaigns. Status updates now make for more effective promotions and the improved handling of Headings means that Affino's SEO delivery has just gone up a notch.
All together there are around 100 improvements in this release so the experience will be improved for everyone no matter how you use Affino.
This release has a very significant update, the ability of have dedicated Detail Skins. The update should be smooth, however it is recommended that it is done during Comrz's support hours should an issue arise which needs support.
It is essential that you run through the complete update process starting with the Affino Updater, followed by the System Update, Re-Initialise Site, Design Element Update and Skin Update; all of which are available on the Settings > Update screen. It means it is now possible to have up to 14 Skins per channel.
Detail Skin v1

This is the biggest structural change to come to Affino for some time. It will now be possible to have Main and Detail skins on each channel. The Main Skins will remain the default

...

1 comment
|
permalink
|
email this
|

|





26 May 2011 1:25 PM

Popular

Comments

Profile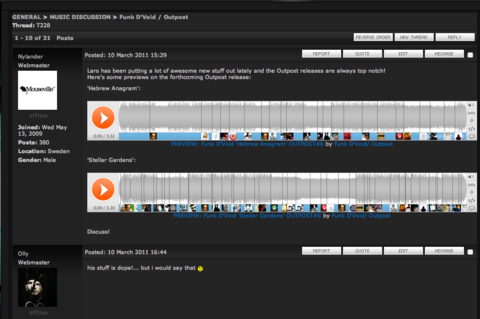 Affino just got easier, this is one of those Affino releases where you may not notice many of the updates, and instead Affino will just feel better, more stylish and faster. Much of what is in this release comes from observing users working with Affino and aims to remove hundreds of the hurdles and pitfalls which slow you down when building and managing advanced social commerce sites.
We have moved forward with the two key Affino objectives for 2011: the new Control Centre and making Affino mobile. There have been hundreds of tweaks to make the Control Centre more usable, especially for running larger sites. There have also been big changes to make the Control Centre work for different screen sizes and have a higher contrast, essential for mobile devices and tablets. We've also swapped out some Flash interfaces for HTML ones which work on all the iOS platforms.
On top of that, major improvements have been made throughout the ecommerce process, Forums, new Recruitment platform, greatly improved Blogging and Events and refined members' pages.
Key users who will benefit from this release are: Designers, who will find it easier to implement designs; Pro Bloggers, who can now create much more engaging blogs; Pro Forum Moderators, for whom we have transformed the forum experience and provided with a host of fresh management tools; Store Managers for whom Affino just leapt forward; Event Managers, who have greatly improved tools for managing large events; and Recruiters and Human Resource managers who now have a powerful new recruitment platform.

1 comment
|
permalink
|
email this
|

|





17 Feb 2011 2:30 AM

Popular

Comments

Profile
I had the privilege to present at the Like Minds Social Commerce Immersive during Social Media Week London last week. It was a great session and there were first class presentations from James Poulter, Mark Ellis (Syzygy), Jussi Wacklin (Nokia), and Ian Jindal.
The presentation is worth flicking through. It's designed to act as useful pointers for developing a Corporate Social Commerce strategy and highlights the key developments in Social Commerce platforms and some very useful considerations when developing the strategy and selecting your Social Commerce platform.
Unlike my usual presentation style, this one is intended to be viewed un-guided online with simple check-point lists.

Add Comments
|
permalink
|
email this
|

|


| | |
| --- | --- |
| Found: 16 Displaying: 1-10 | |

Subscribe to feed

Subscribe by email
Recent Visitors