You are here:
Home
|
Blogs
|
Comrz Social Commerce Blog





26 Oct 2013 1:44 AM

Popular

Comments

Profile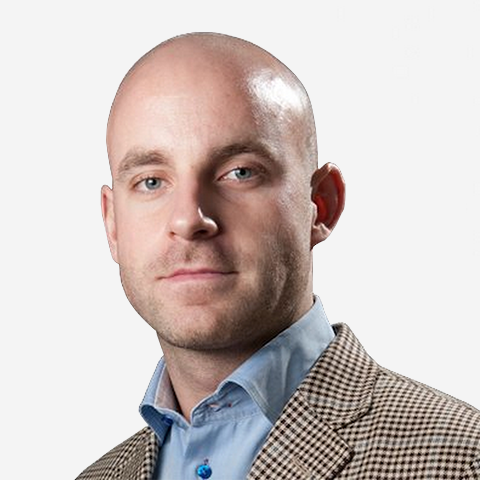 We're very pleased to welcome Marcus Svensson to the Comrz team. He comes to us with over 14 years of experience with a wide range of eCommerce and CRM technologies across all delivery models.
He brings a strong background in business development and is an experienced entrepreneur in his own right. He's lived and worked in Europe, the Middle East and the US, and is a polyglot.
We like him a great deal and feel that he's going to be a key addition to the team. His role will be focused on establishing Comrz as the go-to provider for Social Commerce solutions. This means leading our business development initiatives and helping Comrz to build a great rapport with the wider Social Commerce market.
You can see a great deal more info at Marcus's LinkedIn Profile.
Add Comments
|
permalink
|
email this
|

|





07 May 2013 8:26 AM

Popular

Comments

Profile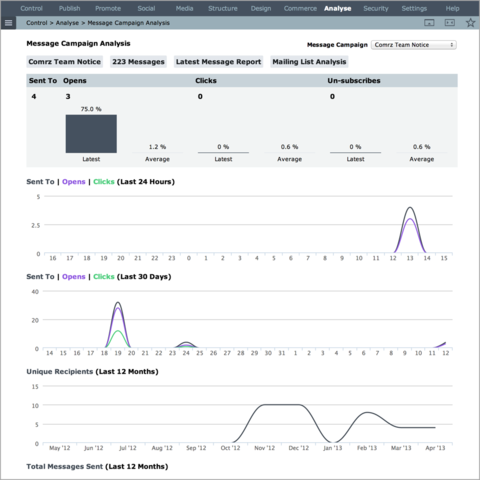 The new Messaging 2 suite in Affino is not simply an incremental update, it is a complete re-imagining of how messaging should work for businesses online.

It has meant a fundamental re-think of how bulk and targeted messages work, and breakthrough improvements for notifications and auto-responders.

Messaging is at the heart of sales and marketing automation. Typically though it is necessary to integrate with many different systems to achieve even the basics of an effective messaging campaign.

Although Affino's Messaging doesn't do everything that tools such as Mail Chimp, Mandrill, Hub Spot, Eloqua, KISSmetrics and Scout do, it does a big part of it, and a whole load more.

It also does it at no additional cost, with easy-to-use tools, and with no code integration required.

The first big change with Affino's new messaging comes with the splitting off of the mailing list from the messages being sent. Affino now has Mailing Lists and Message Campaigns in place of Newsletters. Mailing Lists manage the actual subscribers, whilst Messages are sent out based on your Message Campaigns.

This means you can target your mailing lists in much more creative ways by running multiple messaging campaigns against individual mailing lists.

It also means you can do much more to target your subscribers effectively, whilst maintaining a unified unsubscribe and bounced subscriber list across multiple campaigns.

You can now run three distinct types of messaging campaigns. Premium messages act the same as the previous Newsletter messages. These are tailored messages which can have high design values and where the message content can be highly targeted, automated and personalised.

It is now also possible to send out bulk SMS messaged and Personal messages. Personal messages are instant messages which appear to be sent individually, but are in fact sent in bulk.

We have also made it much easier to send out individual messages and to test / preview those messages. You can now simply enter in the message content, and Title where they are being sent by email. You can then preview them, send test messages or simply dispatch your message

...

6 comments
|
permalink
|
email this
|

|





14 Jan 2013 1:24 PM

Popular

Comments

Profile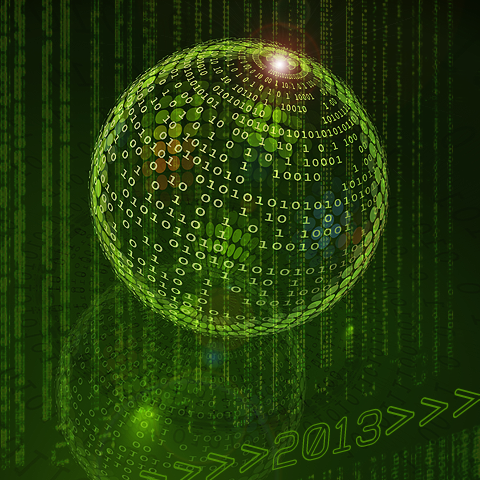 Ecommerce is speeding up, and no one is safe if they're not fully committed to meeting the evolving market head on. 2013 will see big winners and losers as more shopping goes digital.
Here are some of the key trends for the coming year.
Nothing comes close in importance to being able to tailor the buying experience for each and every one of the shoppers who comes to you, whether it's online, on mobile devices, kiosks, in-store or via television.
The starting point for personalisation is the unified user account. This means offering a single login for the user across all devices, with instant syncing of user data across all different sales interfaces, or preferably using a single client-facing commercial engine across all platforms.
Product listings, product searches, recommendations, emailers and community engagement should all be tailored to the individual user. This should be done on recently viewed products, identified interests, and increasingly by using game mechanics to automatically identify and guide users' buying preferences.
The economics, scale and distribution of Cloud setups mean that companies must embrace cloud services in 2013. Even though there are still occasional headline stories on cloud provider down-time, cloud services are maturing rapidly, and in real-world scenarios downtime is becoming increasingly rare.

On the other hand the cloud costs keep on coming down, and the service levels are rising dramatically each year. It means the cost / performance / scale / reliability equation has now firmly swung in favour of cloud setups rather than in-house infrastructure for ecommerce.

Being able to deliver a rapid response, at scale, globally, is best delivered via cloud platforms. Solutions such as Scalr mean that it is now possible to automatically scale up and down your infrastructure. This means that you only pay for what you use, and can run much fewer servers as a baseline, even within the same day as demand scales up and down. It also means that you can address peak demand with the best response times.

Using Content Delivery Networks means that your media and static files are delivered locally, globally, with much faster response times. Using cloud-based storage networks with offsite backup networks means

...

1 comment
|
permalink
|
email this
|

|





05 Oct 2012 1:35 PM

Popular

Comments

Profile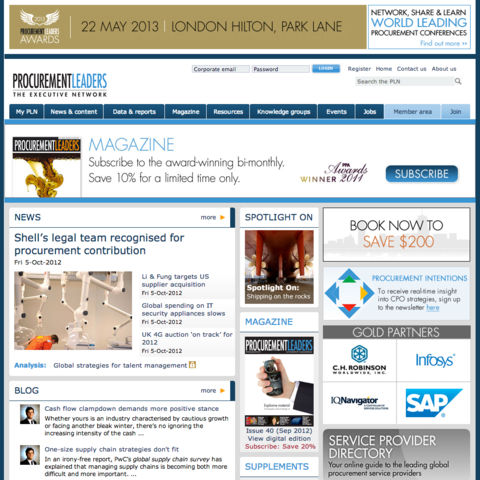 I spent a year as a Buyer (procurement executive) back in my early twenties, and the experience shaped a lot of the decisions I've made since career-wise and as the chief architect of Affino. My twin goals of making it easier to get information out to companies, and making it easier to buy for the client were largely shaped by the pressure which came from having to buy 10,000s of different products during the course of the year.
It's a great thing then that we're working with Procurement Leaders (PL) who do a top job of giving you the inside spin on the key trends and events which affect procurement professionals. I originally signed up to the weekly alerts to make sure that everything worked well and looked good, but increasingly I find myself reading the articles, many of which are excellent.
Procurement Leaders really innovate in how the deliver their content, and are always working great new approaches. As soon as each new delivery is out there, the next one is being worked on. If as a Publisher you want to see what's possible online then you won't go wrong taking a look at what they're doing (although expect it all to change soon enough).
There's a great deal of automation behind the scenes which makes the PL team more productive, especially useful is the Taxonomy / Key Word engine which allows for great drill-downs, searches and organisation of content by Topic as well as automated recommendations and Topic Channels.
We're looking forward to see how the site evolves next, whilst keeping me entertained with great content in the meantime. Although the site is run by the entire PL team, the Tech team who build and maintain the Affino site behind the scenes are first class and a pleasure to work with.

Add Comments
|
permalink
|
email this
|

|





05 Oct 2012 10:58 AM

Popular

Comments

Profile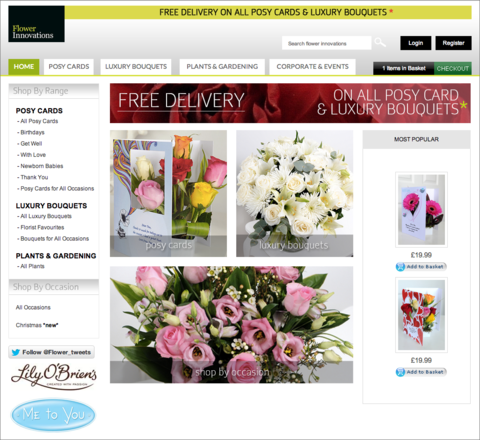 Another favourite Affino etailer is Flower Innovations. Their original, and direct approach to selling flowers works exceptionally well.
Great products, nicely presented, with a simple checkout which allows different types of messages to be sent along with the flowers.
We had to evolve Affino's checkout quite a bit to deliver for Flower Innovations, since almost every purchase made is for someone else. Everything else just works nicely. It's another Hex Digital production.
Next time you buy flowers for someone in the UK, get them here.

2 comments
|
permalink
|
email this
|

|





05 Oct 2012 7:27 AM

Popular

Comments

Profile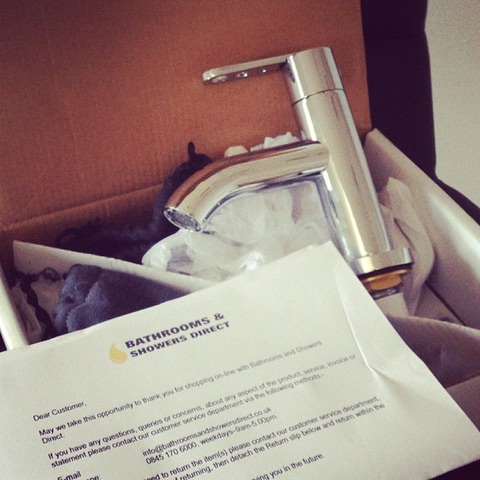 I just had a great experience with Bathrooms and Showers Direct (BASD), one of the best Affino ecommerce sites out there. Although there are many great Affino sites, it's not every day that I have cause to use them. In this case, one of the bath taps in my new place disintegrated when I turned it earlier this week.

We did the usual searches in the usual places: Amazon and John Lewis. Amazon's search is just terrible for things like bath taps, millions of results but no easy way to filter or organise or present the results effectively. John Lewis was just plain expensive for what we're looking for which is 'temporary taps' until we update our bathroom.

BASD on the other hand was simply excellent. The product search (below) is incredibly useful, it only took us a minute or so to find something we could agree on (normally the longest part of any search) which looked good and fitted our budget. The checkout was then quick and efficient, and best of all the taps arrived at 8:00 the next morning, nicely wrapped and looking great.

We've had to order a lot of stuff online lately since we're now officially living in the sticks (South Somerset) and it is normally 5 minutes online versus minimum 1 hour for any alternative for most purchases means online shopping is now our default way of buying things.

It's extremely rare that we get the service level we got from BASD, not one in 10 purchases arrives the next day, only half of them arrive within the stated timeframe (here's looking at you John Lewis) and most of the sites we buy from look terrible and somewhat off-putting so you're never sure you'll get the goods until they arrive.

The BASD team are doing a great job and providing an excellent service, and it's great to have them using Affino. A lot of the quality feel of the BASD site is also down to Hex Digital, one of our Affino Partners who have done a great job designing, implementing and supporting it.

I know where my first port of call will be the next time I need to get something for our bathroom.

...

2 comments
|
permalink
|
email this
|

|





16 Jul 2012 10:02 PM

Popular

Comments

Profile
Tags:
analysis
,
analytics
,
blogs
,
Channel
,
contacts
,
Control
,
control centre
,
design
,
events
,
Flash
,
Images
,
jobs
,
Media
,
polls
,
promotion
,
publish
,
publishing
,
registration
,
Search
,
Security
,
Video Player
,
Dynamic Forms
,
Upgrade
,
Comrz
,
Guide
,
News
,
Company
,
Access
,
Action
,
Projects
,
Display
,
ecommerce
,
help
,
Pricing
,
Support
,
Smart
,
Design Scripts
,
Settings
,
Section
,
Item
,
Forum
,
Affino
,
Zone
,
Menus
,
job
,
Starting
,
statistics
,
project management
,
A to Z
,
Skin
,
eCards
,
Image
,
Layout
,
eTests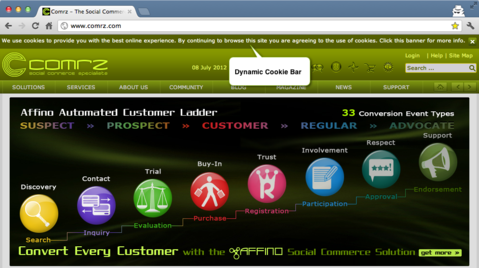 Affino 6.0.16 is the final significant Affino 6 release. It's the culmination of a greatly improved Affino user experience where almost every interface has been enhanced during the course of the last couple of years. We've focused on smoothing out the remaining rough edges in Affino 6 and it's now a whole level easier than it's ever been.

This release sees the introduction of Cookie Policies to meet the EU Privacy Directive. These are smart and geo-targeted so that only users from the relevant countries are presented with the policy dialogue. Additionally continued browsing is registered as implied consent so as to minimise any disruption to the user.

Affino ecommerce makes yet another big step forward. In this release we've significantly improved shopping baskets which are now editable, can be taken over and handed back to customers, or created from scratch and assigned to customers. The baskets also have greatly improved audit tracking and styling. There are also dozens of significant updates throughout the shopping experience which mean that buying is now more engaging than ever in Affino.

There are some major usability improvements in this release, in particular the new Guest Browsing Mode which allows you to instantly switch to the customer's point of view when managing the site. It is now much easier to navigate through the Control Centre with better browser tab naming and highlighted drill-down links throughout the Control Centre.

As with all Affino releases, we have upgraded the integrations with a number of 3rd parties to reflect their changed APIs. We also integrate with Broadbean for the first time for incoming job briefs. The integration updates with Facebook, LinkedIn, PayPal, Metacafe and Google Merchant Centre are critical if you integrate with any of them.

The improvements we have also made to: the checkout, publishing workflows, recruitment, funding platform, geo blocking / targeting, and user export make this an essential update if you're using any of those elements.

This is also going to be the best tested, most polished Affino release to-date, as we further evolve our quality assurance processes and build up our core project management team. We've added a whole new layer of QA in this release so that you can have the best possible

...

5 comments
|
permalink
|
email this
|

|





30 May 2012 10:22 AM

Popular

Comments

Profile
Tags:
AJAX
,
analysis
,
Channel
,
Control
,
control centre
,
design
,
design elements
,
events
,
jobs
,
login
,
Media
,
registration
,
Search
,
Security
,
solutions
,
Social
,
Upgrade
,
Comrz
,
Guide
,
Development
,
Access
,
Projects
,
Display
,
ecommerce
,
help
,
Support
,
Settings
,
Section
,
Password Reminder
,
Address
,
Affino
,
Editing
,
Documents
,
Zone
,
Menus
,
job
,
Starting
,
statistics
,
Message Board
,
Skin
,
Flow
,
eTests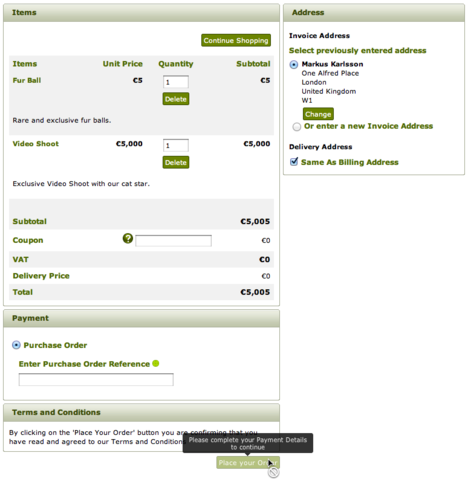 Affino 6.0.15 Release - Ecommerce, Usability and Recruitment
This release is the culmination of seven months work on the new Optimised Affino Checkout. During the course of the last six months we have rolled out dozens of incremental improvements (and fixes) to the checkout process to drive higher conversion rates. The checkout experience has been taken to the next level with a complete revamp for simple, fast checkouts. We've also rolled out a new ecommerce engine, greatly simplified the ecommerce setup and made many nuanced enhancements to the whole ecommerce experience.
We continue our focus on Usability with in-context Help and Feature guides in each Control Centre. We have also greatly improved the process for setting up and running multiple Affino sites on a single Affino instance. Hundreds more elements have been made more intuitive than they were previously, and a lot of rough edges have been smoothed in this release.
Recruitment also sees a great leap forward with dozens of essential enhancements, including a great new Job Search Design Element, recommended jobs, refined CV handling and much more.
Affino's style has also subtly improved in this release. Many elements now look better than before, in particular Affino Design Elements, but also the font sizes and proportions, many notifications, most ecommerce and recruitment elements, member search, the funding platform and events.
This is a Major update which sees amends to everything from registering, logging in, adding to the basket, checking out, member's profiles, all Design Elements and much more. It is essential that you set aside time to review your site after the update. Ensure that you liaise with your Account Manager prior to the update and update during Comrz support hours to ensure a rapid response to any issues.

Note: you are strongly advised to become familiar with the new checkout on Public Staging prior to updating to this release. It is a complete reworking of how it works and it's essential that you are prepared for the changes.

It is essential that you run through the complete update process starting with the Affino Updater, followed by the System Update, Re-Initialise Site, Design Element Update, Skin Update and finally Clear Guest Cache; all of which are available on

...

Add Comments
|
permalink
|
email this
|

|





02 Mar 2012 7:44 PM

Popular

Comments

Profile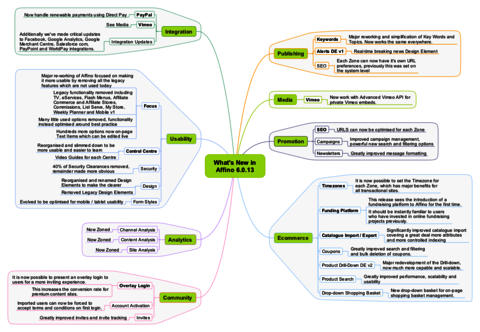 This release sees the biggest leap in Affino's usability we have ever made. There have been hundreds of improvements made so that Affino is easier to learn and use. The biggest change is the complete reworking of the Control Centre, and although many of the changes are subtle, everything is now within easy reach. Two clicks and a swipe when using tablets or mobiles.

The usability changes go further to make it much easier to set up security, build page designs, style your sites, run stores and tailor the SEO on each Zone. We also removed a great deal of legacy functionality which has allowed us to streamline Affino further and innovate the new flat navigation that you get in this release.

Ecommerce is the second area which has seen some dramatic improvements. We now have Timezone support for the first time in Affino, so that you can run sites and stores across multiple regions on the same instance. Campaign driven commerce is greatly improved with better campaign management, catalogue management, coupon and order management, product search and product drill-down menu.

We have also improved the shopping experience with a great new drop-down shopping basket and the login overlay which allows for improved direct selling of subscriptions / memberships from the login page.

A major new feature is the introduction of the Funding Platform into Affino. People familiar with KickStarter and similar fundraising sites will be at home using the Affino version.

Many more elements have been Zoned particularly within lookups and Analytics, where Channel, Content and Site Analysis are all now Zoned for the first time. This takes Affino further towards our goal of being able to Zone the whole Control Centre. Watch out also for the tweaks we've made to the App Bar, they take a bit of getting used to, but you'll notice that you speed up over time.

Altogether there were nearly 300 projects completed for this release, and we had to re-write the Affino updater to be able to handle the scope of all the changes, making this by far the biggest update yet.

We see Affino 6.0.13 as great foundation release to build on this year, and the changes we've made will allow us to drive forward on the plans for 2012 and accelerate Affino's development moving ahead. Expect another release later in March

...

Add Comments
|
permalink
|
email this
|

|





02 Mar 2012 4:29 PM

Popular

Comments

Profile
This release is primarily focused on Usability, with a whole range of updates for campaign driven ecommerce sites. We continue to be driven by the desire to speed things up for our users, removing un-used functionality is a major aspect of that, and this release is the biggest 'spring clean' we've ever done for Affino.
With Affino evolving to be more and more touch and mobile driven we have completed a major review of all the aspects which need to be updated over the coming year. Along the way we have identified dozens of little used Affino elements which we have decided to remove rather than update. This will allow us to focus our resources so that we can update all the elements which are used heavily both faster and to make them better than ever. It also clears out a great deal of 'clutter' that was serving no great purpose.
Key Enhancements
We have removed a fifth of Affino's Design Elements and reorganised the rest; removed 40% of the Security Clearances and reorganised the rest; reorganised the Control Centre whilst removing 15% of the Controls; simplified Form Styles to make them mobile and tablet optimised; and simplified dozens of interfaces to remove complexity and 'gotchas'.
In removing and reorganising all these elements and many more, we have greatly simplified Affino and reduced the learning curve for all users and especially new ones. The day to day impact on existing sites will be absolutely minimal since we have extensively researched how Affino sites are being used and which elements are under-used.
A great deal of our focus has also gone into improving the usability of the existing elements. Dozens of management interfaces have been improved, ranging from minor fixes such as adding new filtering options through to complete overhauls. These will add up to a great deal of time saved each day for actively managed sites.
The Control Centre has now been firmly built around each of the ken key management screens, e.g. Publish, Promote, Communicate. Each has its own video guide and all the management tools for that area are immediately accessible from each Centre.
We cover each element in brief which has been removed below, and in more detail in a separate Blog post.
This

...

7 comments
|
permalink
|
email this
|

|


| | |
| --- | --- |
| Found: 25 Displaying: 1-10 | |

Subscribe to feed

Subscribe by email