22 Dec 2011 12:00 PM

Popular

Comments

Profile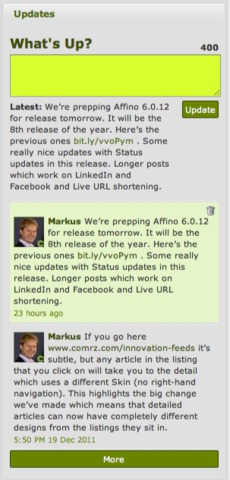 This is the eighth and final release of 2012. It's a great ecommerce release. Almost every enhancement in this release improves the store management experience. The most significant enhancement is the ability to have Detail Skins on a Channel. This allows for specific Skins to display product details. These can be coupled with all the great new ecommerce Design Elements we've created over recent releases including the great new Recently Viewed Products DE.
It is now considerably easier to manage multiple stores on a single instance with improved Control Centre listings, searches and filters. We've improved product and order exports and imports and the Checkout now has new abilities to improve user profiling and gather address details.
We've introduced Supplier Management for the first time. This is especially useful for sites which are acting as hubs, reselling for 3rd parties. We've also upgraded a lot of the ecommerce management interfaces to make them more usable and effective.
It's not just the core ecommerce capabilities that have been upgraded but a lot of associated elements for example Campaign Management which has had a major overhaul to handle high volumes of campaigns. Status updates now make for more effective promotions and the improved handling of Headings means that Affino's SEO delivery has just gone up a notch.
All together there are around 100 improvements in this release so the experience will be improved for everyone no matter how you use Affino.
This release has a very significant update, the ability of have dedicated Detail Skins. The update should be smooth, however it is recommended that it is done during Comrz's support hours should an issue arise which needs support.
It is essential that you run through the complete update process starting with the Affino Updater, followed by the System Update, Re-Initialise Site, Design Element Update and Skin Update; all of which are available on the Settings > Update screen. It means it is now possible to have up to 14 Skins per channel.
Detail Skin v1

This is the biggest structural change to come to Affino for some time. It will now be possible to have Main and Detail skins on each channel. The Main Skins will remain the default

...

1 comment
|
permalink
|
email this
|

|





29 Nov 2011 3:22 PM

Popular

Comments

Profile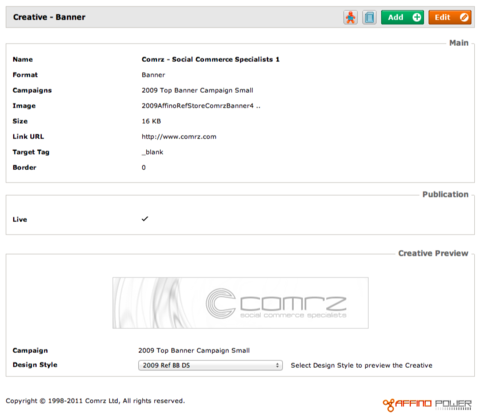 This Affino release is all about performance. We have worked hard to deliver great reliability and improved performance for every page view. This has meant looking deep into how Affino generates pages for bots, guest and members, and improving all aspects.

New Affino Production Process = Better Quality Product

To do this we have completely revamped key aspects of the Affino production cycle, in particular all aspects of how we test it: we have established new Affino Benchmarks; rolled out a new Affino load test facility; developed new automated QA processes on top of the work of the existing quality assurance team; we're using great load testing services to identify Affino's scaling parameters; and finally running new low-level monitoring solutions to see what's happening deep in the core Java engines.

This process has been essential to help us identify and resolve a host of low-level issues which have come to the for with Affino recently, but which have been having an escalating impact for some time. The great news is that the deep focus that we've had on the issues affecting Affino means that the 6.0.11 release has unmatched levels of performance and scalability. The new benchmarks also mean that we will be able to identify with every future Affino release how it performs when compared with the current one.

All in all the new approach has helped us to identify over a hundred potential optimisations which have been implemented in this release.

Elements in Transition

We have made some tough decisions to boost Affino's page delivery speed. Ultimately users compare the speed Affino's pages are delivered in compared to other comparable sites, whether they are blogs, stores, magazines, recruitment sites, corporate sites or communities. Affino does more than all comparable platforms but it must do so whilst also optimising the experience for the end user, and there is no doubt that the speed at which a page loads is an incredibly important part of this.

Most of the elements which make Affino faster in this release revolve around smarter page delivery, improved caching, improved scalability, improved stability, smarter handling of sessions and other great enhancements that take nothing away from the existing Affino experience. We have made some big decisions

...

Add Comments
|
permalink
|
email this
|

|





29 Jun 2011 6:25 AM

Popular

Comments

Profile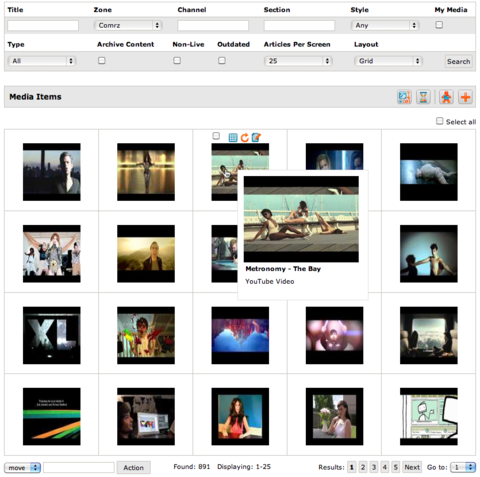 Initially this was going to be a very quick follow-on release to Affino 6.0.7 to resolve any issues that come from the major new Affino release. It has grown a fair bit and includes key new abilities including a great new Lead Generation platform, new Chart content, updated Media Library, greatly improved Comments and Ratings and another set of major improvements in the Control Centre.
testcontent.comrz.com/AcuCustom/Sitename/DAM/242/Charts.png
Affino users with large sites and multi-site setups are going to love this release. It greatly improves your ability to manage your sites with improved handling of all key aspects including Zones, Channels, Sections, Articles, Media and Catalogue Items.
There are dozens of additional usability improvements throughout where interfaces are being streamlined, automated and made more contemporary. This release primarily focuses on improving the user experience with Affino and most of the work has gone into this with dozens of fixes and tweaks.
We've just bumped up the release to include 50 or so further fixes from the original release. Some of these fixes address new issues, whilst the majority address behind-the-scenes server automation issues which affect performance.
Two other key improvements are a new behind-the-scenes approach to security and a number of anti-hacking / anti-phishing measures. Well worth an update even if you're running on the latest release.

Add Comments
|
permalink
|
email this
|

|





26 May 2011 1:25 PM

Popular

Comments

Profile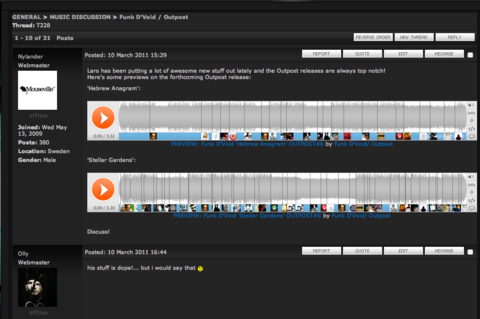 Affino just got easier, this is one of those Affino releases where you may not notice many of the updates, and instead Affino will just feel better, more stylish and faster. Much of what is in this release comes from observing users working with Affino and aims to remove hundreds of the hurdles and pitfalls which slow you down when building and managing advanced social commerce sites.
We have moved forward with the two key Affino objectives for 2011: the new Control Centre and making Affino mobile. There have been hundreds of tweaks to make the Control Centre more usable, especially for running larger sites. There have also been big changes to make the Control Centre work for different screen sizes and have a higher contrast, essential for mobile devices and tablets. We've also swapped out some Flash interfaces for HTML ones which work on all the iOS platforms.
On top of that, major improvements have been made throughout the ecommerce process, Forums, new Recruitment platform, greatly improved Blogging and Events and refined members' pages.
Key users who will benefit from this release are: Designers, who will find it easier to implement designs; Pro Bloggers, who can now create much more engaging blogs; Pro Forum Moderators, for whom we have transformed the forum experience and provided with a host of fresh management tools; Store Managers for whom Affino just leapt forward; Event Managers, who have greatly improved tools for managing large events; and Recruiters and Human Resource managers who now have a powerful new recruitment platform.

1 comment
|
permalink
|
email this
|

|





16 Feb 2011 4:51 PM

Popular

Comments

Profile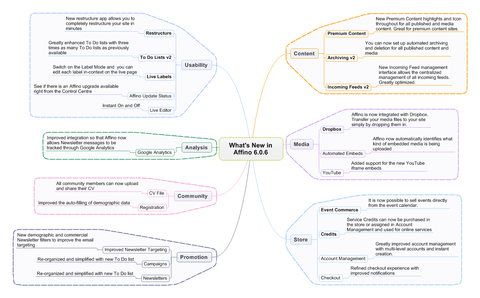 There are a log of great new features in the Affino 6.0.6 release. For a quick insight into the key new features take a look at the Mindmap above which highlights the key features.
Click on the image for a full size view.
Add Comments
|
permalink
|
email this
|

|





10 Feb 2011 11:54 AM

Popular

Comments

Profile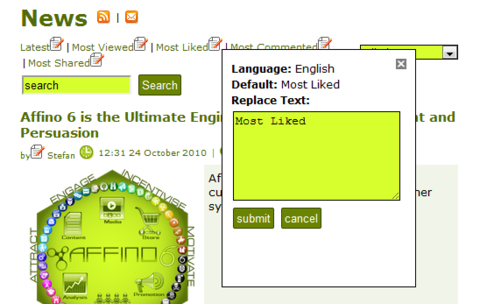 This release sees the introduction of great new productivity features, some key E-commerce enhancements, and significant improvements for Affino's handling of 'Fast Content'. All together there are over 150 updates in this release.

The new Restructure interface allows editors to rapidly transform their site's structure; a new Live Label mode means that it is now possible to view and edit most labels directly on the live page; and the new To Do Lists help users to get complex tasks done quickly.

There are a lot of little things in this release which make Affino more intuitive and easier to use, such as: instant Live Edit mode; the Smart Image and Text DE becomes Button; the first steps of the new Control search layout; Blogging now always takes you to your own blog; you can now see when there is a new Affino release in the Control Centre; Channels, Checkout, Newsletters, Security all reorganised for easier management; Affino now automatically detects the type of media embed you're doing and much more.

Event Commerce means that for the first time it is possible to directly sell Events in Affino, organisations which run many annual events will find them much easier to manage. Premium Content listings make it possible to highlight all the premium content which is available on the site in a much more effective manner than has been possible to-date. The new Credits solution means that it is now much more effective to sell online services.

Affino sites are increasingly using Incoming Feeds to drive their SEO, content and community automation. This is great, but it means that some sites have been adding tens of thousands of articles, images and videos per day. This additional content volume soon adds up and causes the Affino performance to degrade. As a result this release sees major updates to both Incoming Feeds and Archiving. It means that the Fast Content is pulled in, displayed whilst it is adding value, and then removed from the site to prevent an unnecessary build-up.

We have also integrated Affino with Dropbox for super-simple media uploads. It solves a major on-going issue with uploading large files. By using Dropbox's excellent upload capabilities it is possible to upload videos and other large media files in a way that simply hasn't been possible. ...

1 comment
|
permalink
|
email this
|

|





21 Dec 2010 4:50 PM

Popular

Comments

Profile
Tags:
contacts
,
design
,
events
,
login
,
main menu
,
polls
,
publish
,
registration
,
Search
,
point release
,
MP3 Player
,
Video Player
,
Dynamic Forms
,
Upgrade
,
Start
,
Comrz
,
Site Analysis Centre
,
help
,
Support
,
Settings
,
Item
,
Design Skin
,
Forum
,
Affino
,
Image Optimisation
,
Documents
,
Menus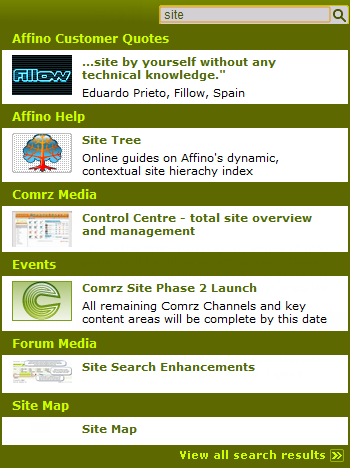 This is a significant stability release for users who are running Affino 6.0.4. It is recommended that you update to this version at the earliest opportunity. There are fixes across the board and a couple of great new features that didn't quite make it into the last release.
Owing to the timing of this release (i.e. just before the Christmas Break), we have excluded a number of the latest project related developments from it to ensure the smoothest Affino experience over the festive season and into 2011. These will be released in a further Affino release early in the New Year.
Upgrade Guidance
This is a minor release following on from the major Affino 6.0.4 release a couple of weeks ago. It is recommended that if you're on 6.0.4 that you update at the earliest opportunity since there are key fixes across the board in this release.
If you are having issues with your catalogue items, in particular with catalogue item attributes and inventory variations then most likely your custom catalogue item templates will need updating which is outside the scope of this update.
It is essential that you run through the complete update process starting with the Affino Updater, followed by the System Update, Re-Initialise Site, Design Element Update and Skin Update; all of which are available on the Settings > Update screen.
Key Enhancements
Predictive Site Search v2
Affino Site Search sees major improvements in its predictive search capabilities so that it now shows a great preview panel with the search results categorised, with thumbnails and teasers where relevant. Catalogue Items will also show prices, allowing users to instantly have the key information at their fingertips.
Online Forms v2
Online Forms were one of the first elements to be developed in Affino and they have hardly been touched in ten years. This release sees a major upgrade with the release of the new Online Form Design Element which means that Online Forms can now be included in any page either in the form of a Button Activated form or a full Inline form.
Online Forms are now all instant so that they are now subm...

2 comments
|
permalink
|
email this
|

|





07 Dec 2010 4:23 PM

Popular

Comments

Profile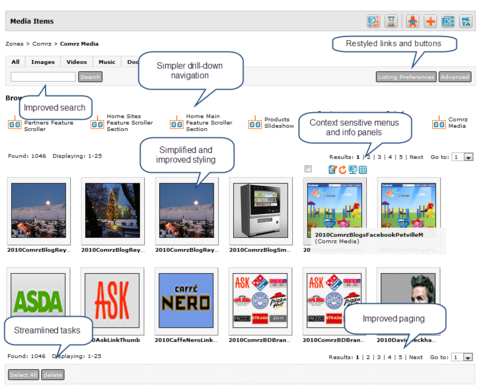 The vast majority of the work done for this Affino release is behind the scenes, or simply won't be noticed except that the overall feel of Affino will have improved when you're using it.
There are some elements though which are new or radically updated, you can see the slides below in the detailed post.
Radically improved Media Control Centre, much more usable.
The new Commerce panel greatly simplifies setting up and managing stores. It is particularly useful when you have complex pricing, attributes, date logic and discounts all affecting an item.
You can really understand the value of the activity being undertaken on your site. No longer is it a case of monitoring the number of page views you've received, rather it is a question of knowing how much of any specific valuable activity has been taking place.
There's a quick view of how users can now log in via Facebook, Twitter and LinkedIn. These links can now be placed on every page and are integral to the user account management.
The Blog Highlights (and Article Highlights) Design Elements greatly improve the Blog browsing experience.
The New News Format greatly improves you news pages
A number of art galleries are using Affino now, and the Artworks media presentation is being improved continuously
We're definitely going to extend the number of images that Affino supports in a single blog post in the future as there are quite a few more elements you should check out including the Blogs, Video Player, Forums, Article Highlights DE, Cover Flow DE, Shopping Basket and Checkout.
Take a good look at the release notes and you'll see that there are hundreds of layout and usability improvements in this release, keep an eye out for them.

Add Comments
|
permalink
|
email this
|

|





07 Dec 2010 4:13 PM

Popular

Comments

Profile
A quick visual scan of the mindmap will show you that the Affino 6.0.4 release is primarily focused on Community, but there are also some great updates in every area of Affino. The very nature of Social Commerce means that all elements overlap and it can be hard to categorise some of the improvements. The new Video Promotion Panel could have gone under any of Media, Store and Promotion; the LinkedIn integration is equally important for Community and Promotion.
What should be clear though is that this release is a complete breakthrough for Affino on as a Social Hub with it's deep integration into the key social networks and all the enhancements we've wrapped around them.
Add Comments
|
permalink
|
email this
|

|





07 Dec 2010 3:54 PM

Popular

Comments

Profile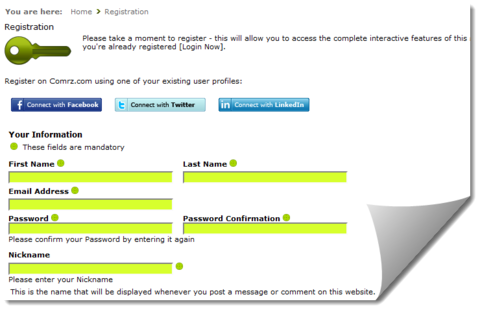 This is a major Affino release with hundreds of great new features and updates. There are four transforming aspects of this release: Deep Social Integration with Facebook, Twitter and LinkedIn; major performance improvements; extensive evolution for real-world use cases; and the reworked Affino Media Libraries.
We have transformed what it is to have an Affino User Account so that Affino users can now be authenticated by the three leading social networks, which allows for seamless integration between Affino and the networks. It means that users' online identities can be used to populate and update their Affino profiles.
Many Affino sites are growing rapidly and Affino has been optimised to be up to 800% more efficient in real-world scenarios with this release. Targeted optimisation and dozens of scalability fixes make Affino 6.0.4 far more robust than any previous Affino release.
Other key enhancements are the updated Forums, which have been greatly refined in this release to be more user centric, and a greatly improved Application Bar which has a new Commerce panel and improved usability and options on the other panels.
Affino is now far more capable of real-world commercial, media and community scenarios with hundreds of enhancements and fixes for real-world user cases. We look forward to seeing Affino communities accelerate their development and for all Affino sites to become more engaging and entertaining.
It is essential that you do not update to Affino 6.0.4 without confirming with Comrz support or your account manager beforehand.
This is a major Affino release, and as such you should check with the Comrz team to ensure that it is safe to update your site. This roll-out will be an incremental one with sites under development updating first, followed by the social and promotional sites, and finally transactional sites.
It is recommended that you run through the complete update process starting with the Affino Updater, followed by the System Update, Re-Initialise Site, Design Element Update and Skin Update.
Deep Social Integration
In the age where t...

1 comment
|
permalink
|
email this
|

|


| | |
| --- | --- |
| Found: 28 Displaying: 1-10 | |