You are here:
Home
|
Blogs
|
Comrz Social Commerce Blog





02 Mar 2012 7:44 PM

Popular

Comments

Profile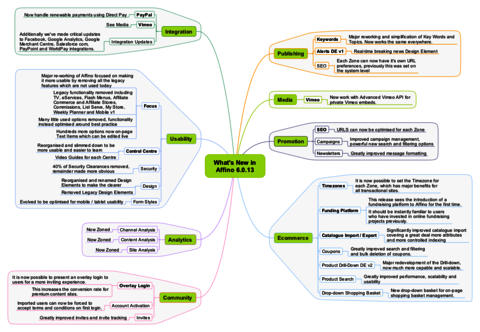 This release sees the biggest leap in Affino's usability we have ever made. There have been hundreds of improvements made so that Affino is easier to learn and use. The biggest change is the complete reworking of the Control Centre, and although many of the changes are subtle, everything is now within easy reach. Two clicks and a swipe when using tablets or mobiles.

The usability changes go further to make it much easier to set up security, build page designs, style your sites, run stores and tailor the SEO on each Zone. We also removed a great deal of legacy functionality which has allowed us to streamline Affino further and innovate the new flat navigation that you get in this release.

Ecommerce is the second area which has seen some dramatic improvements. We now have Timezone support for the first time in Affino, so that you can run sites and stores across multiple regions on the same instance. Campaign driven commerce is greatly improved with better campaign management, catalogue management, coupon and order management, product search and product drill-down menu.

We have also improved the shopping experience with a great new drop-down shopping basket and the login overlay which allows for improved direct selling of subscriptions / memberships from the login page.

A major new feature is the introduction of the Funding Platform into Affino. People familiar with KickStarter and similar fundraising sites will be at home using the Affino version.

Many more elements have been Zoned particularly within lookups and Analytics, where Channel, Content and Site Analysis are all now Zoned for the first time. This takes Affino further towards our goal of being able to Zone the whole Control Centre. Watch out also for the tweaks we've made to the App Bar, they take a bit of getting used to, but you'll notice that you speed up over time.

Altogether there were nearly 300 projects completed for this release, and we had to re-write the Affino updater to be able to handle the scope of all the changes, making this by far the biggest update yet.

We see Affino 6.0.13 as great foundation release to build on this year, and the changes we've made will allow us to drive forward on the plans for 2012 and accelerate Affino's development moving ahead. Expect another release later in March

...

Add Comments
|
permalink
|
email this
|

|





02 Mar 2012 4:29 PM

Popular

Comments

Profile
This release is primarily focused on Usability, with a whole range of updates for campaign driven ecommerce sites. We continue to be driven by the desire to speed things up for our users, removing un-used functionality is a major aspect of that, and this release is the biggest 'spring clean' we've ever done for Affino.
With Affino evolving to be more and more touch and mobile driven we have completed a major review of all the aspects which need to be updated over the coming year. Along the way we have identified dozens of little used Affino elements which we have decided to remove rather than update. This will allow us to focus our resources so that we can update all the elements which are used heavily both faster and to make them better than ever. It also clears out a great deal of 'clutter' that was serving no great purpose.
Key Enhancements
We have removed a fifth of Affino's Design Elements and reorganised the rest; removed 40% of the Security Clearances and reorganised the rest; reorganised the Control Centre whilst removing 15% of the Controls; simplified Form Styles to make them mobile and tablet optimised; and simplified dozens of interfaces to remove complexity and 'gotchas'.
In removing and reorganising all these elements and many more, we have greatly simplified Affino and reduced the learning curve for all users and especially new ones. The day to day impact on existing sites will be absolutely minimal since we have extensively researched how Affino sites are being used and which elements are under-used.
A great deal of our focus has also gone into improving the usability of the existing elements. Dozens of management interfaces have been improved, ranging from minor fixes such as adding new filtering options through to complete overhauls. These will add up to a great deal of time saved each day for actively managed sites.
The Control Centre has now been firmly built around each of the ken key management screens, e.g. Publish, Promote, Communicate. Each has its own video guide and all the management tools for that area are immediately accessible from each Centre.
We cover each element in brief which has been removed below, and in more detail in a separate Blog post.
This

...

7 comments
|
permalink
|
email this
|

|





03 Jan 2012 1:47 PM

Popular

Comments

Profile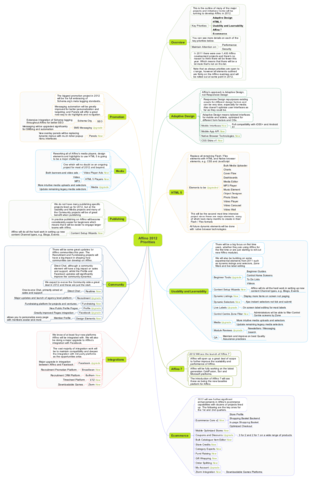 There is a major programme of developments lined up for Affino in 2012. This post outlines many of the key ones. Whereas 2011 was something of a transitional year for Affino (although we made some great headway see here and here). 2012 will see many key milestones reached which will open up Affino to provide great sites on all devices for great commercial and community based sites.
For an indepth look have a look at the Mindmap here. For a quicker overview see below.
Key Priorities:
Adaptive Design
HTML 5
Usability and Learnability
Affino 7
Ecommerce
You can see more details on each of the key priorities below.
We will also maintain attention to:
Performance
Security
Overall Product Quality
In 2011 there were over 1,400 Affino development projects and there's no reason to think there will be fewer this year. Which means that there will be a lot more that's not on this list.

Note that as always priorities are open to change, however all elements outlined are firmly on the Affino roadmap and will be rolled out at some point in 2012.

Affino's approach to Mobiles and Tablets is Adaptive Design, as opposed to Responsive Design. Responsive Design repurposes existing assets for different design factors and can be very slow on mobile, especially for media, it also so doesn't optimize user interfaces as far as they could be.

Adaptive Design means tailored interfaces for mobile and tablets, optimized for different form factors and OSs. This means that we'll be tailoring the way different elements in Affino work on different form factors, and whilst you will need to put thought into how you lay out your mobile sites in particular, much of what Affino does will be to handle the transition between devices gracefully.

We'll also be rolling out a Mobile App API which initially will support iOS and Android.

HTML 5 is a term which actually covers a lot of developments which are aimed at providing native browser capabilities to replace many plugins, in particular to replace Flash. We started replacing Flash elements in Affino over a year ago and the goal this year is to replace all remaining Flash / Flex elements with native browser elements. We won't just be replacing them, we'll be

...

17 comments
|
permalink
|
email this
|

|





22 Dec 2011 12:05 PM

Popular

Comments

Profile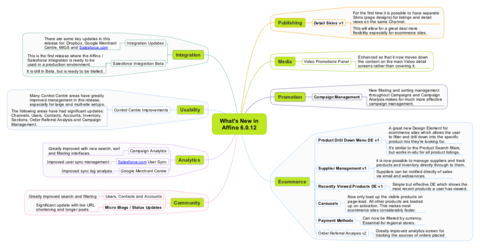 If Ecommerce is a big part of what you do with your Affino site then this is a great release for you. It's especially good if you're using Affino for running multiple Zones, Stores, Campaigns and regions.
There are some great new ecommerce capabilities such as the Supplier Management, Product Drill Down Menu DE and Recently Viewed Products DE. Of all the updates in this release approximately 50 are directly ecommerce related and pretty much all the remainder are directly related to running better online stores.
The single most significant development is the Detail Skin which allows you to have a different skin when viewing details and listings. This is most significant for online stores where you can really tailor the page design to maximize the conversion rates.
Campaigns, Micro Blogs and Salesforce.com integration also get big updates in this release.
Add Comments
|
permalink
|
email this
|

|





19 Feb 2010 11:40 AM

Popular

Comments

Profile
A lot of our focus with Affino is on how to improve everyday tasks for people when communicating and selling online. To the extent that it keeps us awake at night. Most of our energies go into delivering customer projects and rolling out major social and commercial enhancements in Affino, however we're always looking to improve the core system.
Since starting Comrz we've focused on this in two ways, firstly by dealing with bugs and niggles. These are the potholes of the user experience, they're not a big deal individually, but if they're not taken care of then the whole user experience becomes degraded and users are continuously tripped up (especially beginners). We are investing a lot of resources into fixing all of these as quickly as possible, most are fixed within 30 days.
The second bigger challenge deals with the more fundamental issues of faster page views, improved compatibility, smarter security, cleaner code, improved user experience and exponential productivity breakthroughs. We always look to tackle at least one significant core project in each release and the upcoming 5.5.15 release is no exception. We're doing four great projects: Clean Code, Live Editor v4, Simple Media Uploads and Structure Copy.
Chrome does not handle JavaScript well. In fact it's infuriatingly flaky and intermittently displays the JS code within the page. We had hoped that Google would fix this, but there's been no improvement for months. This has highlighted to us the need to completely re-factor the way we handle JavaScript and CSS code in Affino.
There are many benefits from extracting all the JavaScript and CSS from the dynamically generated code and placing it in dedicated files and 'on-load' functions: faster page loads, reduced hosting requirement, cheaper content distribution, fewer browser errors, and improved SEO rankings (because the pages are faster, lighter with higher word count concentrations).
We've re-factored completely the way we handle the JS and CSS code in the new release. The biggest impact coming from how we generate the Skins (page design and styling code). Behind the scenes, there is also a greatly improved application structure.
The real be...

1 comment
|
permalink
|
email this
|

|



Subscribe to feed

Subscribe by email
Recent Visitors