You are here:
Home
|
Blogs
|
Stefan's Naturally Aspirated Blog





07 Nov 2013 1:30 PM

Popular

Comments

Profile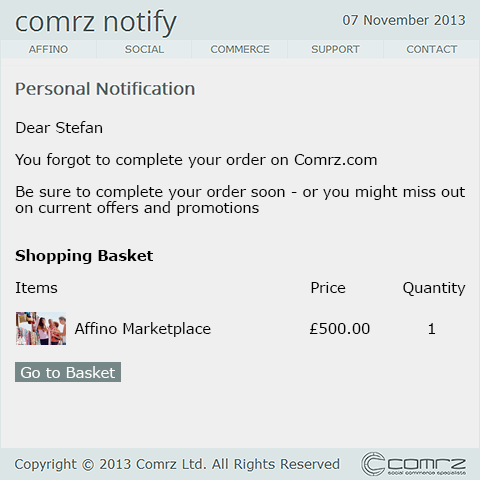 This post was prompted by an email we received last week stating - "How much do you lose to cart abandonment?" - from a certain something company offering a very specific solution for spotting, analysing and dealing with abandoned shopping carts. This highlights two very different approaches to eCommerce sites in general - most of the sites out there are what we would determine fragmented 'bolt-ons' - i.e. a core eCommerce / checkout system with lots of 3rd party integrations - difficult to set-up, manage or evolve. The Affino Social Commerce Solution is a much more holistic approach, as all the essential tools and utilities are included and built into the very core of the system.
Most people don't realise quite how much is available on-tap in Affino, so here follow some of the less obvious included elements - which very much sit within the areas of Sales and Marketing Automation and Social Utilities, all of these of course help with maximising revenues, improving customer retention and generating repeat sales:
Abandoned Cart Notifications
This is simply one of the many triggers within Affino's Messaging solution - others include: Purchase, Login, Birthday and Conversion Event - all despatched fully automatically to incentivise customers
Conversion Events
Part of Affino's Customer Ladder solution, there are currently 42 trigger types with subsets, including: Cancelled Purchase, Friend Bought from Invite, Item added to Basket, Item added to Wishlist and of course Purchase - these can auto-despatch a variety of messages, or trigger coupons, discounts, store credits or other rewards
Lead Generation
You can assign any Conversion Event to a Lead Generation Profile, which logs resultant leads and sends notifications to the appointed Leads Manager/s
Product Subscriptions
Another essential Conversion Event utility, where any conversion even can trigger a content subscription - such that customers get notification whenever a new product is added to a specified category
Recommendations
Based on topics assignment and registered user preferences / likes, Affino recommends content, media, products, contacts and events - so customers get more of what they like - and so do you
Active Shopping Basket Management
Track and manage active Shopping Baskets - help customers through

...

3 comments
|
permalink
|
email this
|

|





07 Nov 2013 1:13 PM

Popular

Comments

Profile
Tags:
internet retail
,
online retail
,
Comrz
,
ecommerce
,
social commerce
,
Affino
,
PayPal
,
Internet Shopping
,
Affino 7
,
Affino Social Commerce Solution
,
Maximising Revenue
,
Abandoned Shopping Basket
,
Abandoned Shopping Cart
,
Shopping Basket Abandonment
,
Econsultancy
,
Experian
,
TolunaQuick
,
Delivery Prices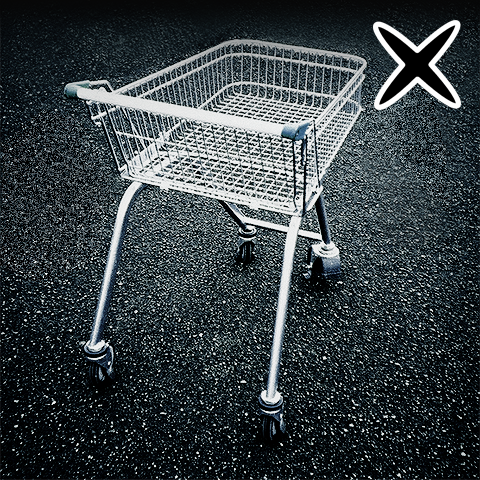 An interesting piece on Econsultancy indicates the key reasons for Shopping Basket abandonment, which Experian estimates is costing UK retailers £1bn+ each year. In an online survey conducted by Econsultancy and TolunaQuick, 44% of customers indicated that they had abandoned a purchase, and cited high delivery charges as the key reason.
Results and key questions as follows:
After adding items to your basket, what would make you abandon your purchase?
77% - High delivery charges
55% - Technical problems
49% - Prices too high
26% - Needing to register before buying
Once you are in the checkout process, what would deter you from completing the purchase?
71% - Hidden charges
58% - Concerns about payment security
44% - Technical problems or slow loading pages
37% - The process takes too long
33% - Lack of contact details
26% - Difficulty filling in forms
23% - Security features such as Verified by Visa or MasterCard SecureCode
How to combat the key causes of Shopping Basket Abandonment
No surprises! Be upfront and transparent about all charges
Always try to give at least 2 delivery options, e.g. cheaper normal post and more expensive express courier
Always try to give at least 2 payment options, e.g. PayPal and Credit Cards
Have an SSL Certificate on Checkout, Registration and Login - most shoppers will be reassured by HTTPS designation in browser
Belong to a relevant retail association - e.g.ABTA or Internet Shopping is Safe
Sign up to Trustpilot for unbiased customer reviews
Use a Single Page Checkout - everything simply laid out on a single screen means faster and easier checkout
Allow shoppers to buy with PayPal - without needing to register or logon
Ensure business address is clearly visible - shoppers are far happier doing business with someone they can place geographically
Have a named customer service representative with picture and contact details on site - shoppers are even happier doing business with someone they can put a face to
Our Social Commerce Solution Affino has been engineered to tackle all the key points indicated above - Contact our Business Development Director Marcus Svensson on maxrevenue@comrz.com for further insights on Affino's revenue generating abilities.

...

2 comments
|
permalink
|
email this
|

|





01 Nov 2013 1:47 PM

Popular

Comments

Profile
Tags:
internet retail
,
online retail
,
Comrz
,
ecommerce
,
Affino
,
Zone
,
Affino 7
,
Gill & Macmillan
,
Affino Social Commerce Solution
,
Gill & Macmillan Education
,
Gill & Macmillan Books
,
eTest
,
eTest.ie
,
More Success
,
Sounds Good Phonics
,
Multi-domain
,
Multi-domain Delivery
,
Gill & Macmillan Fireworks
,
Affino Zone
,
Multiple Stores
,
Maximising Revenue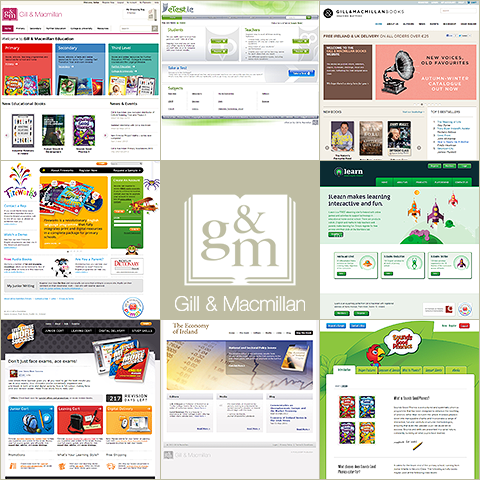 We were somewhat surprised to find that the majority of eCommerce platforms cannot easily be set up or extended for Multi-domain Delivery. By this I mean the ability to target different market segments - whether geographic or other specialisation, by adjusting settings on the same site licence.

The Affino Social Commerce Solution offers just such an ability out-of-the-box; we call it a 'Zone'. You can set up numerous Zones on your Affino site licence - all with different URLs or domain subsets and all with unique design and content. Affino further has built-in tools like 'Structure Copy', 'Restructure' and 'Design Smart Copy' to make it easier for you to adapt existing content, structure and look-and-feel - to create new targeted derivations.

In this way you can create the absolute optimal experience for each of your key target audiences, without any need for compromise. All retailers agree that you get the best results when you are able to provide each customer segment with their own optimised, dedicated retail environment.

When Gill & Macmillan first deployed Affino, they used their site licence for a single site - their eLearning platfrom eTest.ie. The various Gill and Macmillan sites were spread across several different systems, which meant no resource / content sharing and a much larger management overhead for the admin team. The last few years have seen Gill & Macmillan implement a program whereby all the key sites now run on the same Affino licence; these include:
"At Gill & Macmillan, we have many different parts to our business, so it is essential for us to be able to run multiple stores effectively. Affino allows us to easily set up new stores which we can segregate and tailor exactly to our customers' needs"
Stuart Bannon, Webmaster, Gill & Macmillan

Affino Multi-domain delivery can best be defined by the 5 following benefits:
Higher Conversion Rates
Improved Customer Satisfaction
Easier Discoverability
More Relevant SEO
More Effective Targeting
Contact our Business Development

...

3 comments
|
permalink
|
email this
|

|





27 Oct 2013 6:35 PM

Popular

Comments

Profile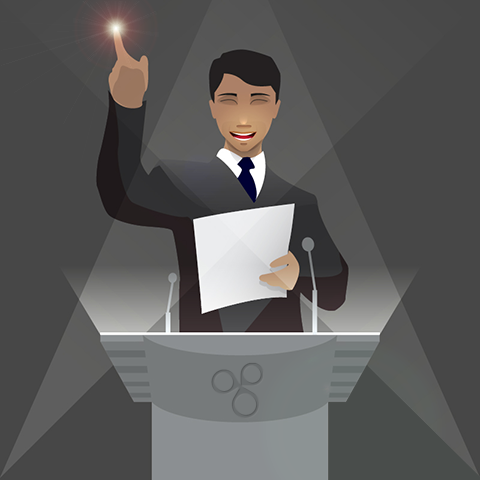 When Affino was first launched back in 2000, the central focus was always for the site owners to have full hands-on control over their online retail environments. Affino has always been developed with a view to being a holistic Social Commerce Platform - combining Online Retail with core CMS, Community and Deep Analysis.
Here are some of the essential facets of the Affino Social Commerce Solution which give Affino users more control:
Structure - Set up, copy and adapt multiple nested or fully independent content / product hierarchies. By utilising separate 'Zones' you can build a Multi-Channel and Multi-Brand Platform with ease
Design Centre - Affino's Design Centre is still as revolutionary today as it was when first introduced in 2002 - DIY Design Implementation via currently 86 Design Element Widgets, Design Styles, Menus, Frames, Design Objects and Skins, with advanced CSS customisation options available for those who have the skills
Personalisation - Using a combination of Affino's Granular Security and Assignable Topics with configurable Design Elements, you can set up highly targetted shop fronts with distinct customer journeys
Application Bar / Control Centre - Total control over everything you see onscreen - Affino has extensive settings profiles to give admin users enormous scope for making instant changes
Live Edit / Design Edit - Edit Content, Text Labels and Design Element Settings on the live Display Screen
Sell Almost Anything - Affino has extensive selling abilities, mixing up standard Product Catalogues with Digital Media, Events, Saleable Articles and Memberships - via Granular Security assignment you can pretty much put a price on any of your site activities
Social CRM + Customer Ladder - Have complete oversight over every activity your site users engage in, track them, incentivise and reward them
Instant Analysis - Affino has several bulit-in dedicated Social Commerce analytics tools as well as the wholly configurable Customer Ladder Conversion Events Analysis, and Configurable Analysis Dashboard with 19 dedicated Commerce widgets
Shopping Basket Management - Track and assist customers with their purchases
Core vs Integrated - Affino contains everything you need to run several high level, socially-enhanced stores in a single solution, but it also integrates with 3rd party solutions including
...

2 comments
|
permalink
|
email this
|

|





27 Oct 2013 12:44 AM

Popular

Comments

Profile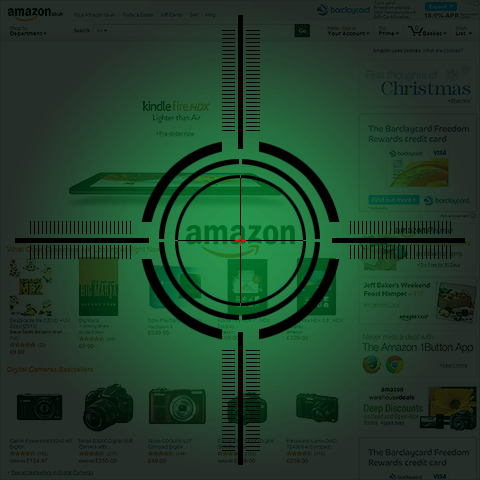 Since it's origin as an American online bookseller in 1994, Amazon has gone on to conquer the world. In most regions where it is active, it is the pre-eminent Internet Retailer, and now covers near enough every conceivable area of shopping, albeit not equally in every territory.
I've been an Amazon Prime Member for some time now, and alongside the Ocado Smart Pass, consider this an everyday essential service! I love the ease at looking something up, and fire and forget ordering with next-day noon delivery in almost all cases - even Sunday to Monday ordering on occasion.
There are many reasons how and why Amazon still maintains its lead:
Range - The Range of goods on Amazon is without equal
Price - In most cases (certainly not all though) Amazon has one of the lowest price points available - particularly for Books / Music / Video / Games
Stock - Amazon typically has a larger stock, so it's less likely to sell out of the item/s you want
Delivery - Plenty of delivery options including same and next day delivery, even with the option of secure lockers and 3rd party location pick-up points
Reliability - You have to be a little careful with Amazon Marketplace, but with a bit of reading between the lines you can usually spot the right moves, pretty much everything I order gets delivered the next day or two
Returns - Amazon uses the Yodel service to pick up packages from customers' doorsteps - I have used it several times and it works brilliantly
Reviews - Even though there is a slight proliferatin of semi-dodgy reviews, by-and-large you get a good indication of suitablity of product from customer reviews
Recommendations - Every area you browse on the site you get sent recommendations via email, not always wholly relevant, but very cool and frequently useful nonetheless
ListMania - Top 10 / 20 lists of customer favourites help you spot new products that are likely to appeal
Wishlists - The ability to file away preferred products for later purchase, great as a reminder for future releases
Amazon is usually my preferred retailer on the basis of a combination of range, cost and service, there are certain areas though that would benefit from improvements.
Areas Amazon could Improve Service:
Packaging - A lot of the packaging is not particularly re-useable for returning goods in - why do Amazon
...

2 comments
|
permalink
|
email this
|

|





26 Oct 2013 3:22 AM

Popular

Comments

Profile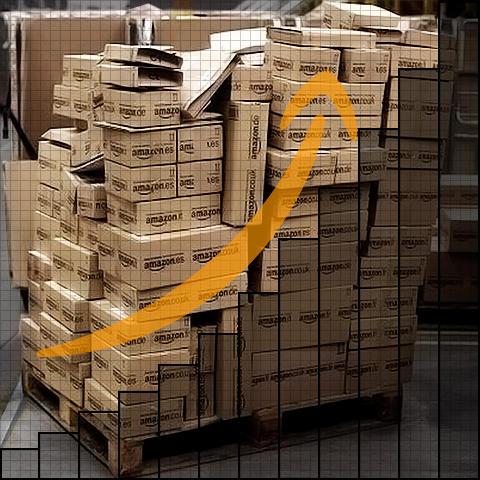 In Britain, the 'Internet Shopping Capital of the World' (q.v.), sales for September 2013 rose 13% from August, like-for-like comparison with September 2012 saw a rise of 20% between years (IMRG / Capgemini).
Clothing, especially lingerie and undergarments, saw strong increases on the success of sites like ASOS.com.
Mobile devices, including smartphones from Apple and Samsung saw a rise of 150% compared with 2012 - which directly impacts on shopping via mobile devices also.
Experts say that online sales have been boosted in particular by rapid delivery options, such as same-day delivery offered by companies like Amazon, ASOS, Dixons and Next. The September 2013 figures see the fastest increase per month since the e-Retail Sales Index was set up 13 years ago.
Over 10% of all UK Retail Sales are now online, with the ratio predicted to rise to 20%+ by 2020.
21% of UK families shop online for food and groceries compared to under 10% for the rest of the world. EU research shows that 82% of British Internet users regularly shop online, which is the highest figure within the 28 member states:
..1: UK 82%
=2: Denmark 79%
=2: Sweden 79%
..4: Germany 77%
..5: Luxembourg 73%
..6: Finland 72%
--------------------------
=26: Italy 29%
=26: Estonia 29%
..28: Romania 11%
UK leads the EU for online purchases of clothing and food, Sweden is top for travel, and Luxembourg is top for books (perhaps something to do with Amazon European HQ?)
UK Shoppers are more active than US as online food and grocery retail has not taken off to the same extent in America.
Like for like comparisons with September 2012 in the UK see clothing up 18%, lingerie 30%, accessories 20% and footwear 20%.
Current trends seem to indicate a likely strong Christmas season for online retailers - time to get all your ducks in a row then ...
2 comments
|
permalink
|
email this
|

|





14 Dec 2011 11:49 AM

Popular

Comments

Profile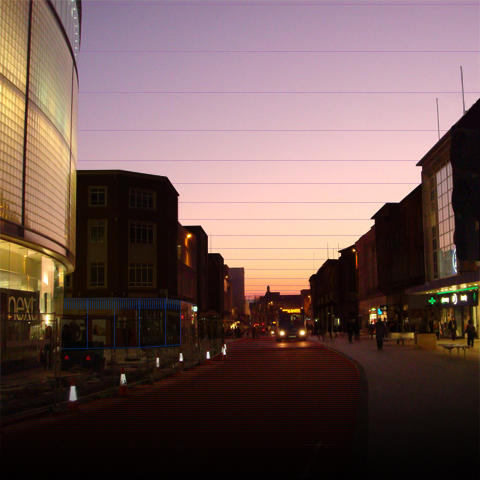 Mary Portas has just submitted her report of 28 recommendations to the government on how to tackle the declining fortunes of our High Streets. A lot of what she says makes some degree of sense, but a number of the policies seem somewhat defeatist and totally against smart, small independent retail businesses.

I have lived in various parts of this land, in towns and cities of varying sizes, and I have witnessed first-hand the changes to our local High Streets, and I have slightly different answers and recommendations for how the High Street should tackle the current issues.

To start off with, we need to be aware of the full spectrum of key considerations for shopping:
Price - Online is best obviously, Malls and Supermarkets are usually cheaper than city-centre retailers too
Range - Again Online is best - most choice at the best prices, next come the larger retailers, and again the High Street typically comes last
Availability - It's usualy easiest to find availability online, then in larger shops - depends on size of Town really as to what is available on the High Street
Convenience - This largely depends on where you live, but Malls are usually located where they are easy to get to - and have free parking, whilst town centres are more congested and you have to pay for parking - if you can find a space; online of course is always at your fingertips - there are other factors here including weather and transport / traffic congestion in your area
Facilities - Here the Malls come into their own really - Multi-screen cinemas, restaurants, amusements, all the shops and various family-friendly amenities and services all under one roof - antiquated town centres with poorly tended toilet facilities and spaced out amenities cannot compete, of course online comes with its own home comforts
Service - It largely depends on who you do business with - but increasingly you get better service online - better loyalty schemes, better packaging, and increasingly more delivery options, now with more flexible locker collection solutions (like Collect+ and ByBox), as well house-sitters (courtesy of WaitingIn.co.uk) if you need someone to wait in for a furniture delivery or similar while you're at work (last year 800 million hours were lost by customers waiting for deliveries; 8 million individuals took time off work)
Flexibility - Even Malls cannot compete with
...

4 comments
|
permalink
|
email this
|

|





30 Sep 2011 11:29 AM

Popular

Comments

Profile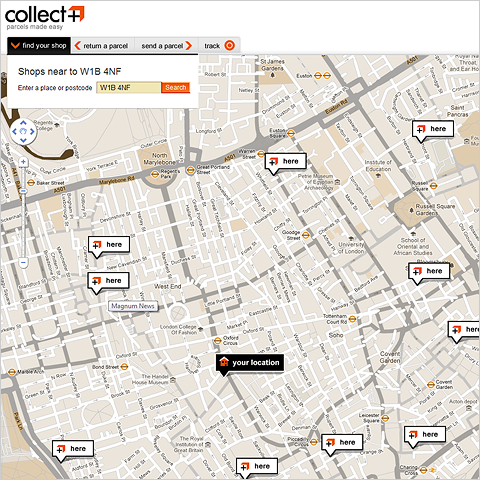 Those who read my blog will know that I often complain about how compared to all other services offered via online retail, the actual process of returning a faulty or unwanted item has usually been well below par. Even Amazon falls foul of this - where all its other service offerings / customer support services are excellent, their returns handling process is really very poor in comparison.

All Saints was the first company I experienced which handled returns properly, but now there is a service company which offers this kind of incredible service to all UK-based online retailers. I was first made aware of Collect Plus's existence by one of my favourite outward bounds activity equipment retailers - Wiggle - from whom I get a lot of my Nordic Walking kit. In the most recent shipment there was an A4 sheet of paper with detachable label - addressed back to Wiggle c/o Collect Plus returns.

The paper explains that you should detach the sticky label and apply to the package of goods you wish to return - making sure you remove / cover your own delivery address. You then go online on the Collect Plus Website and look up your postcode to find your nearest Collect Plus representative / outpost / collection point.

Collect Plus has an extended network (4,000+ locations) of mostly corner shops, newsagents and petrol stations. You take your package to one of these, and are given a tracking code when you hand over the parcel - for your own reference and further correspondence. The package is then picked up by one of the numerous vans belonging to the Yodel delivery network - which then returns the package back to the original retailer. Yodel handles 200+ million parcels a year. The retailer obviously pays a cost per package - which needs to be factored into the overall overheads of the retailer.

This system is not too different to the one I mentioned in my blog about Amazon using 7-Eleven to offer a similar delivery service - no mention of returns collection yet, though I'm sure Amazon's 7-Eleven system could be used for that too.

As a consumer, 'Returns' is one of the key reasons why many shoppers prefer to shop at a High Street store. However, with the easy accessibily of the Collect Plus system (extended hours, local collection points), it looks like online retailers now have a perfect solution for this too. Well done everyone concerned! The

...

4 comments
|
permalink
|
email this
|

|





07 Sep 2011 10:29 AM

Popular

Comments

Profile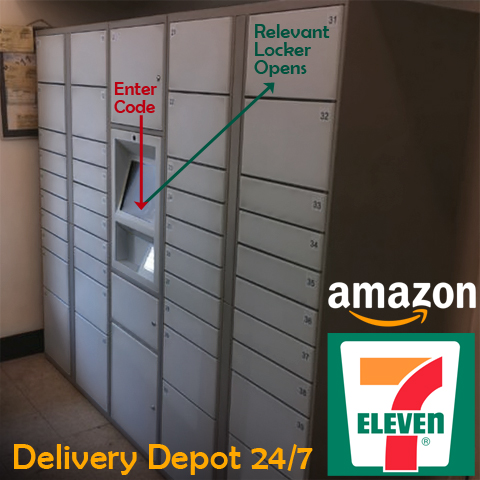 As reported by various online Tech journals and blogs, Amazon has announced that it is teaming up with 7-Eleven to give its customers 24/7 access to parcel collection. One of the biggest issues with online retail is ensuring that there is someone home to receive the package at the time of delivery. The cost of pin-point delivery, where you choose the exact time-slot is cost-prohibitive for most. Some people work very long hours, and have long commutes on top of their working hours, meaning that it is difficut for them to co-ordinate their schedules for sundry package deliveries.

A number of companies have been trying to come up with a solution that works for most eventualities, and all the solutions involve utilising some kind of central, 24-hour access depot. It needs to be manned in some way obviously for security reasons!

It's actually quite ingenious for Amazon and 7-Eleven to team up on this, as neither is stepping on the other's toes, and both stand to benefit from the hook-up. Amazon customers are likely to order more, if they are confident of picking up the package at any time, and 7-Eleven will get knock-on traffic from the additional footfall of the Amazon package collectors.

It's unfortunate we don't have many big bright 7-Elevens in the UK, the nearest equivalent is the 24 hour petrol station or 24 hour supermarket. Most supermarkets though have their own catalogue operation and would see themselves in direct competition with Amazon, and alas - most garages, are not centrally located, and even if so, do not offer 24 hour access inside the shop.

For the USA, this is an inspired solution to a long-standing problem. In the UK however, we could first do with some central London branches of 7-Eleven, and then we would be able take advantage of the 24 hour access. As it currently stands, I cannot think of a single outlet in the UK which would fit the bill - the prerequisite is obviously location within a residential area and extended / 24/7 opening hours.

Hopefully the growth in online retail will inspire more 24 hour businesses, and once we have an organisation with sufficient branches / outlets we too can have automated lockers where you key in your delivery tracking number, and the locker which contains your parcel pops open.

On the face of it, the solution is neat and elegant, it would be interesting though to see the cost/

...

Add Comments
|
permalink
|
email this
|

|





13 Apr 2011 2:08 PM

Popular

Comments

Profile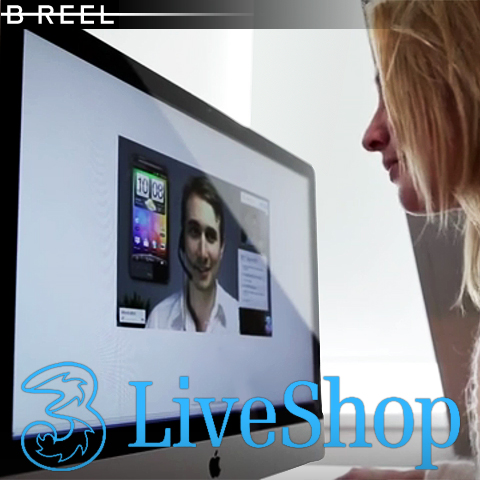 These last few weeks have seen a lot of features about B-Reel's excellent recent interactive touchscreen live sales assistant interface for Sweden's 3 Mobile Phone Store . The new interface - aka '3 LiveShop ' enables a sales assistant to present various options in the style of Tom Cruise in Minority Report. The touch screen interface allows the assistant to sweep and select with multiple touches and drag and drop pictures and text panels onto the interface. On the client side, the customer can then view / click on their screen to select / approve the options presented.

Of course this looks very slick and user-friendly, and contains some amazing technology - beautifully executed, but it adds more to the retail side than the shopping side. In many ways it's a new innovation on a very old fashioned transaction. Back in the earliest days of retail, we had the General Store, where a shop keeper behind the counter did all the running around - making selections on behalf of the customer and presenting them with options. This is really just a hi-tech update of that.

Modern retail has moved much more towards automated vending - think of all the vending machines you get on a typical Tokyo street corner - many of them now with modern touch-screen interfaces. A future-proof system really needs to be highly automated and easily and constantly accessible. The advantgage of the Internet is not only that it can reach customers remotely, but that it can reach them at any time of day or night. Of course 3 could put on shifts which covered 24/7/365 - but there's a very significant cost overhead for this, which would be prohibitive for most retailers.

For my mind, the future of retail is most definitely Automated Social Commerce - where the sales assistant's role is taken up by both the technology, as well as the other members of that retailer's community -i.e. other knowledgeable customers. I can see all kinds of clever lessons being learnt from the '3 LiveShop ' experience, and this technology eventually becoming established in a more domesticated environment - where customers assist each other online by using just such 'Minority Report' gesture-based on-screen communication.

So in short B-Reel / 3 are not wholly the future of online retail, but certainly set down some signficant...

1 comment
|
permalink
|
email this
|

|


| | |
| --- | --- |
| Found: 11 Displaying: 1-10 | |

Subscribe to feed

Subscribe by email
Recent Visitors